Home
»
Service Catalog Home
»
Teaching & Learning
» Classroom Technology and AV Support
Classroom Technology and AV Support

(Also known as: Audio Visual, Live25, Live)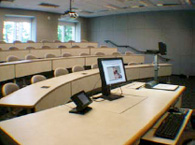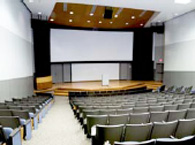 Eligible: Instructors, Staff, Students, IT Professionals
Emory's Library & Information Technology Services (LITS) provides innovative room and spaces management tools, classroom technology solutions and audiovisual services supporting the primary teaching, learning, research, and service missions of the University. A broad menu of services is available to Emory faculty/staff and sanctioned student groups, Emory Healthcare, and Emory affiliates.
Classroom Technology Support (Class Tech) provides specialized in-room support, consultation and training services to assist the Emory community with the technical and logistical aspects of technology use in classrooms, meeting rooms and collaborative settings across campus. Located in the center of Emory's main campus within the Woodruff Library, Class Tech offers incubator classrooms and other amenities including collaborative conferencing tools, videoconferencing, interactive displays and computer workstations. The team assesses the technology needs of individuals and work groups and matches the appropriate collaborative, conferencing and interactive teaching tool for each unique scenario. Services also include individualized training, AV equipment maintenance, service contract management and associated computer support.
Contact: 404.727.6853 or classtech@emory.edu for AV assistance in support of academic classes, meetings and events and for information on where to find additional AV support services across the University. In-room support services are provided in for technology centers, classrooms, conference rooms and meeting spaces in Emory College buildings, the Robert W. Woodruff Library and Woodruff Health Sciences Center Library. Services in additional locations are provided by agreement.
AV Design services are available to the Emory community. As technology adviser and consultant, we help owners explore and articulate their present and future needs through our understanding of how technology and work-life interact. We enable partnerships that inform and shape the environment, resulting in better-designed (i.e., efficient, cost-effective, future-proofed) facilities for academics, research, administrative work and social engagement of the University.
Remote asset management services are available to facility and IT managers campus-wide. The unified service called Crestron Fusion RV allows support staff to efficiently monitor, centrally manage, and schedule AV equipment resources in rooms and spaces. The web-based interface helps to streamline operations and remotely monitor the status of essential AV-equipped spaces. Features include instant email alerts, equipment and room usage statistics, prompts for routine maintenance, and real-time remote technical support for end users. Robust reporting features provide data to make more effective equipment purchasing and resource scheduling decisions. Consultations are available for schools, divisions and departments wishing to implement the Crestron Fusion RV monitoring service.
Emory's Room and Space Management application called 25Live offers scheduling and optimized space utilization solutions. It promotes efficient, effective scheduling and provides the ease-of-use and full functionality expected of a professional scheduling solution. With this service, it is easy to create and manage academic and non-academic events of any kind, from simple one-time meetings to the most complex, multi-instance classes and conference events. This service provides web-based event calendaring, scheduling, and publishing. It also helps determine whether classroom equipment and special services support requirements.
Service Features & Options
| | |
| --- | --- |
| Feature / Option | Application |
| Latest computer presentation software, audio visual equipment, cable TV distribution and network connections | AV Support, Video Tools |
| One-on-one technology familiarization sessions with a technology expert | AV Support, Video Tools, 25Live, Crestron Fusion RV |
| Tools for digital lecture capture, recording, personal response, desktop conferencing, collaboration and annotation | AV Support, Video Tools |
| Consultants available to guide construction and AV design decisions | AV Support, Video Tools |
| Collaboration environments and classrooms available to test emerging technologies | AV Support, Video Tools |
| Available to faculty and graduate students who teach | AV Support, Video Tools |
| Imports event and class schedules into room management calendar | 25Live |
| Feeds for room scheduling and events content to live displays and other compatible applications | 25Live |
| Provides technology support for student study sessions, meetings and events | AV Support |
| Facilitates remote monitoring, asset management and help features for room and space technologies | Crestron Fusion RV |
Additional Service Information
| | |
| --- | --- |
| Option | Cost |
| Remote AV Management | Fees for vendor programming of integrated AV equipment into Crestron Fusion RV |
| Classroom and AV Support Services | Fees for services by agreement |
| 25Live | None |
| Videoconferencing | Fees may apply for multisite conferencing via MCU or monitored events |
| Echo 360 lecture capture | Fees apply for site license and file storage/processing infrastructureFees apply for purchase and installation of appropriate in-room technologies |
To submit a request or to report an incident related to this service either call the IT Service Desk at 404-727-7777 or create the request or incident online at help.emory.edu