Home
»
Service Catalog Home
»
8-Help Customer Assistance

(Also known as: Help Desk (EHC), Service Desk (EHC), 8-Help)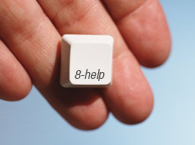 Eligible: Instructors, Physicians, Staff, Researchers, IT Professionals
Availability: 24 Hours, Daily
Support: Monday - Friday, 8 a.m. - 5 p.m.
(see Request Assistance for after-hours)
The Information Services 8-Help Service Desk consists of 19 analysts dedicated to providing exceptional customer service to our Emory Healthcare community, 24 hours a day, 7 days a week. Current services include our Service Desk, Onsite Rounds Program and our recently opened Customer Status Center.
Our Service Desk can be reached by dialing 8-Help (404-778-4357). This is the primary way issues are reported to us.  Users can also report a non-urgent issue by sending an email to 8help@emoryhealthcare.org or log an issue by launching the Remedy Console icon within the Virtual Desktop. We also have established a Critical Care Line option that may be used to quickly report issues that have an immediate, negative impact to the care of our patients. When receiving a call, it is our goal to resolve the issue quickly and to user satisfaction at the time of initial call. Over the past 2 years, we've increased our first call resolution from 12% in 2007, to 48% of the 110,000 calls we received in 2009. Because of the complexity of some issues, we have to capture as many details as we can, log a ticket and assign it to one of the specialty support groups with experts knowledgeable of the subject matter. One of these specialty support groups handles issues that are not resolved at the time of the initial 8-Help call.
Our Customer Status Center was a concept of our 8-Help staff members to assist in following up on issues that have already been reported but that have not yet been resolved. It also allows us to give more focused attention to customer communication. When calling 8-Help, users have an option to press 1 for a status on an existing ticket. The 8-Help Analyst will follow up with the specialty support group that is assigned to handle that ticket, get the current status from them and then report that status back to the caller. The 8-Help Analyst will continue to work to get the issue resolved.
Our Onsite Rounds Program provides a face of IS to the customer. With personal onsite visits, we are able to proactively identify and resolve first level IS-related issues our customers may be experiencing. We also follow up on any open tickets to make sure a current status is provided to our customers. We welcome the opportunity to answer any questions our customers may have and offer brief one-on-one training sessions for EEMR applications and basic PC functionality. Look for us at EUH, EUHM, EUOSH, Wesley Woods, 57 Executive Park, Clinics A, B, C and 1525.
Under the direction of Mary Kay O'Brien, who brings over 25 years of clinical experience to her role as manager, our staff at 8-HELP understands that our 'true' customers, and our users, are our patients and their families. Individually, our staff has between 7 to 20+ years experience in the Information Technology industry. Combining clinical and information technology experience gives those who serve in the 8-HELP Service Desk the necessary perspective and heart for providing the best possible support for our customers.
How to Request Support from Information Services
Users can place a service ticket with Information Services through the 8-HELP Call Center by calling 8-HELP (404-778-4357). Note: Use this method for critical patient care or critical business impact issues.
In addition, Emory Healthcare has established a critical care line to assist with speeding calls to our call analysts for emergency calls. To access the line, the user may dial "9" anytime after connecting to 404-778-4357. The appropriate use of this feature will be strictly enforced under the following guidelines:
Issues that impact the delivery of clinical care and requires immediate attention.
Business problems that impact patient data, financial accounting or similar problems.
To report global outages that impacts multiple users of our critical applications.
When a customer accesses this feature, they will be asked "What is the nature of your emergency call?" If the call is deemed to be non-emergency, the caller will be asked to hang up and redial 8-Help to use the normal process. All other calls will be administered according to the subscribed standards.
For NON critical patient care or critical business impact issues, alternative access methods exist including:
Sending an email directly to 8-Help at following email address: 8help@emoryhealthcare.org

Entering non-critical problem ticket or work order through Remedy, by access the Remedy icon from the Virtual Desktop. Do not use Remedy to report critical patient care or business impact issues - call those into 8-HELP! In addition, users may monitor the status of your tickets through Remedy.
If you have any questions please call the 8-Help Call Center at 8-4357 (8HELP).
No additional cost