Home
»
Service Catalog Home
»
Get Connected!
» Remote Office VPN Access
Remote Office VPN Access

(Also known as: Site-to-Site, VPN: Remote Office, Access: Remote Office VPN)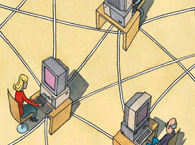 Eligible: Physicians
Availability: 24 Hours, Daily
Support: Monday - Friday, 8 a.m. - 5 p.m.
(see Request Assistance for after-hours)
Data sent over the Internet on a public network will pass through many locations on its way to its destination. The connection is insecure - anyone en-route can capture and read/use that data. It also means that computers must be directly accessible on the Internet, with an IP address, which makes them vulnerable to hacking. This is clearly unacceptable for Emory.
Creating a private network infrastructure between locations is costly, inefficient, and ineffective. Remote office workers could not benefit, as it would be impossible to supply them with a dedicated, physical network line.
Like many businesses, instead of using private network infrastructure between locations or the public Internet, Emory uses a virtual private network (VPN). A VPN uses "virtual" connections routed through the Internet from Emory's private network to the remote site or employee.
Remote Office VPN Access gives Emory staff access to the dedicated VPN between the campus, remote offices, the Emory Healthcare clinics, hospitals, and vendors.
This provides Emory with huge cost savings and a seamless network while maintaining security and encrypted data traffic.
Remote Access to Core: Gives Emory offsite locations and partners with a virtual network access to the main campus and hospitals
Data Encryption: Allows for Health Insurance Portability and Accountability Act (HIPAA)-related materials and other sensitive data and applications to be accessed over a secure VPN
| | |
| --- | --- |
| Cross-Platform | The pre-configured Remote Office VPN appliance can run on multiple operating systems: Windows, MAC, and Unix varieties |
No additional cost