Home
»
Service Catalog Home
»
Get Connected!
» Wireless
Wireless

(Also known as: Emory Unplugged, Emory Guest, Access: Wireless)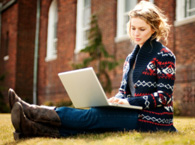 Eligible: Instructors, Physicians, Staff, Students, Researchers, Alumni, IT Professionals
Availability: 24 Hours, Daily
Support: Monday - Friday, 8 a.m. - 5 p.m.
(see Request Assistance for after-hours)
Wireless connection to networks and the Internet has become almost a neccessity in today's busy, mobile world. Emory University is continually building and improving infrastructure to support wireless service across the Emory communities.
The Emory Wireless service supports the wireless hardware on campus that provides access to EmoryUnplugged. If an area exists on campus where wireless access is unavailable, a user or department can order the installation of a module that extends the reach of EmoryUnplugged to that area.
EmoryUnplugged is the preferred wireless service for the Emory community. This service provides unlimited speed and encrytped traffic for users with an Emory Network ID (ENID) from multiple locations across campus, with no limits on what the user can access.
Additionally, the wireless hardware also give access to EmoryGuest, which is provided for official guests of Emory University who have not been granted a Network ID and password for access to the Internet. Users must have an active wireless card that is set up to detect new networks. Guest users will be limited to only web access and limited bandwidth.
Provides Wireless Internet Access: Members of Emory's Academic and Healthcare communities can use Wireless to connect to the Internet. Guests can use guest access to connect as well
Provides High Speed Access to Emory's Network and the Internet: Users who possess network IDs get access to the fastest Internet connection service, while Guest users have limited access and bandwidth
Provides Secure Internet Access: Encrytped traffic for users who possess ENID (Emory Netword ID)
| | |
| --- | --- |
| Supports a Variety of Wireless Devices | Supports laptops, desktops, smart phones, and other Wifi-enabled devices |
| Encrypted Traffic | Provides a safe and secure connection |
| Guest Access | Allows Emory guests free access to the network |

Ongoing Cost: : $45 per month