Information Technology Architecture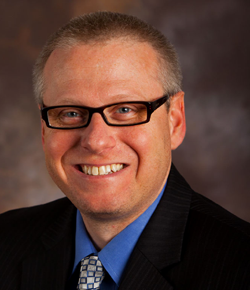 A respected leader in IT architecture, Steve Wheat became Emory's Chief Information Technology Architect in July of 2008. His strategic leadership and tactical execution of organization-wide initiatives improve customer satisfaction and bottom-line financial performance. He has extensive experience in leading the design, implementation, and integration of web-based applications and services.
FY11 was a strong period of development and implementation for OIT Architecture. In addition to establishing OIT-wide IT architecture reviews for the One IT initiative (to provide a checkpoint for documenting IT standards and practices and reviewing projects' compliance with those standards), OIT Architecture actively provided guidance and technical assistance on a number of successfully completed projects throughout Emory Healthcare and Emory University, with a few of the highlights listed below.
Emory Healthcare/Executive Health HL7 lab result integration
OIT Architecture worked with Emory Healthcare and Research & Health Sciences IT to take delivery of all Health Level Seven (HL7) messages from Emory Healthcare for lab results stored in Emory Electronic Medical Records (EeMR) and route them to the Center for Health Discovery. The same HL7 message parsing and processing infrastructure developed for the iDXA integration was used for this project. This integration allows the Center to build a more complete picture of study participants who are also receiving services from Emory Healthcare.
Implement Emory Web Service Registry
Emory Healthcare and Emory University have both implemented contemporary, service-oriented architectures for integration. These technologies and skills help integrate information systems. For example, when a researcher needs lab results from Emory Healthcare for patients participating in their study, OIT can route messages containing this data between Emory Healthcare and University research systems with appropriate logging, auditing, and security.
In order to make the best use of these integration resources, Emory has begun registering all of its Web Services into a web service registry at https://demo.webservices.emory.edu. All OIT units are actively registering web services here, so any member of the Emory community may view what web services are available. In 2012, Emory will implement a production web service registry and encourage broader participation by all Emory units creating web services.
Implement EdUnify Web Service Registry for Higher Education Beta
OIT Architecture is involved in both the BioCatalogue Project and the EdUnify Project. The BioCatalogue Project is an initiative to develop and operate a web service registry for life sciences. The project is led by the University of Manchester (UK) and the European Bioinformatics Institute. The EdUnify Project is an initiative to implement a web service registry for higher education. The goal is to accomplish this by adapting the BioCatalogue web service registry to serve the needs of higher education. In pursuit of this goal, Emory has made valuable contributions to both EdUnify and the BioCatalogue.
In October of 2010, EdUnify launched its production web service registry based on the BioCatalogue. To date EdUnify has 57 services, 47 service providers, and 71 registered members. BioCatalogue has 2066 web services, 147 service providers, and 552 registered members.
Looking Ahead
OIT Architecture continues to collaborate throughout the Enterprise and we look forward to implementation of several of the One IT proposals in FY12.
Steve Wheat
Chief Information Technology Architect, OIT Enterprise Architecture
<< Emory Healthcare Information Services   |  IT Finance & Administration >>