Focus on OIT
Active Learning and Engagement Initiative Begun in ECIT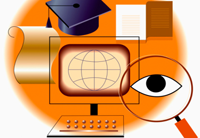 "I am indebted to my father for living, but to my teacher for living well." - Alexander the Great
In early January, nine hand-selected faculty members from across the university joined with the UTS Faculty Services team and participated in the first iteration of the Active Learning and Engagement Initiative (ALEI). Sponsored by the Center for Faculty Development and Excellence (CFDE) and Emory's Center for Interactive Teaching (ECIT), the initiative was designed and developed by Leah Chuchran and Wayne Morse (Academic Technology Services).
Working with Faculty Services team members (Steve Bransford, Lee Clontz, Chris Fearrington, Tricia Goddard, Kathy Hayes, Chase Lovellette, Shannon O'Daniel, and John Willingham), Leah and Wayne presented a "smorgasbord" of technologies that can be implemented within course curricula. The central themes of the initiative revolve around active learning principles, assessment, technology-enhanced course content and building long-term relationships amongst the participants.
The faculty members who participated were:
- Moose Alperin (Rollins; Career Masters Public Health)
- Cheryl Crowley (Emory College; Russian and East Asian Languages and Cultures)
- Elizabeth Downes (Nursing School; Office of Academic Advancement)
- Steve Kraftchick (Candler School of Theology)
- Yu Li (College; Russian and East Asian Languages and Cultures)
- Sissel McCarthy (Emory College; Journalism)
- Gary Motley (Emory College; Music)
- Jane O'Connor (Emory College; English Second Language Office Undergraduate Education)
- Jeff Rummel (Goizueta Business School; Faculty Support and Research)
The ALEI faculty development initiative consists of three phases: Immersion Sessions, Curriculum Implementation, and Assessment and Data Gathering. Faculty Services staff will collaborate with the faculty participants (and their students) throughout the year to support their adoption of technologies and pedagogy, as well as to collect data to assess the learning outcomes and the level of success, incorporating student performance and how well the technology supported the curricula.
In addition, an ALEI Community of Practice website and blog has been established using ECIT's instance of WordPress. This provides an "offline" and ongoing environment for everyone involved to touch base with one another, share and bounce ideas off one another and offer new topics of discussion to the cohort.
In the first phase of the initiative, the participants attended three half-day immersion sessions that included learning activities and discussions to gain deeper knowledge from each other's teaching experiences and individual disciplines. The team created a high level of energy around active learning principles so that the instructors could identify and select the appropriate technological tools to meet their course objectives for the Spring 2012 semester.
Some of the technologies introduced throughout the initiative included digital storytelling, video production, iTunes U and podcasting, data visualization tools, social media, Blackboard functions, ePubs, using Web 2.0 tools to assess students and universal design techniques used to present content in standardized ways to support multiple learning pathways.
Some of the discussions that surfaced throughout the immersions included active learning vs. instructor-centered teaching and how students become engaged in their own process of learning, building student communities, formative versus summative versus authentic assessment and the challenges of being the "judge and jury" when assessing students.
This initiative is unique in the faculty-training repertoire. While ECIT has always offered multi-week deep-learning programs such as "Emory College Online" (for College faculty) and "Technology, Pedagogy, and Curriculum" (for graduate students), this is the first program to include contributions from each of the Faculty Services members and a higher degree of interaction between staff and faculty participants.
With Back-To-School for Spring semester being just as busy as Fall these days, Faculty Services found time for this major new initiative in part due to the operational benefits from the new Blackboard-OPUS ESB integration. Much of the earlier workflow mapping courses and enrollments has now shifted to a more educational focus we provide as instructional technologists.
Plans to grow the ALEI are already developing. An invitation open to all university faculty members interested in participating in an extended nine-week version of the program, which will meet 90 minutes each week, will be sent early in February.
- Leah Chuchran, Business Analyst, Academic Technology Services
---
Rich's Extra Credit Assignment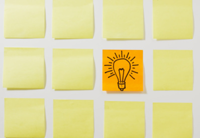 "America demands invention and innovation to succeed." - Kit Bond
As Rich and I have conducted the recent roadshows in your areas over the last month or two, we have received a few requests for more clarification about the "extra credit" assignment.
Together, we have put down some thoughts which I present to you below. The first section is Rich's summary and is best used for those who want to get right to it. The second section is my additional detail for those of you — and you know who you are — who used to ask the teacher how many pages the report had to be or what size margins you could use.
The goal of the extra credit assignment is to generate ideas that might result in future efficiencies, revenue opportunities, or ways of restructuring the work that we do in OIT, ultimately leading to some institutional benefit.  Although I gave several examples focused on the "cloud," the ideas do not need to be limited to that particular area.
The presentation should be limited to a maximum of 7 minutes, but can be shorter.
You may present as an individual or group, but the 7 minute time limit applies to either.
I don't plan to eliminate any ideas prior to hearing the details, so staff shouldn't be concerned if they are pursuing the same idea as another individual or group. It is very possible that we may combine elements of multiple presentations into the final go-forward initiative, so overlap isn't necessarily bad.
The "extra credit" assignment Rich has been discussing recently is a fun and incredibly useful device designed to allow you to make a direct contribution to Emory and the way we do our work. No matter which direction your creativity takes you, this process will give you unprecedented access to the decision-making process and a chance to create the future.
As noted above, the cloud example Rich has been giving are an example of how you might consider preparing your department for the continuous change that the IT industry undergoes. We could also consider how education and healthcare are changing. Many of us are customers of these industries in our personal lives and can easily imagine how to make improvements both big and small in these areas.
The mere act of preparing for a creative session like this can be a chance for expanding your skills in several ways, ranging from researching and organizing ideas outside the realm of your ordinary job description, designing compelling visual materials to creating a captivating story, and even the personal challenge of mastering your nerves in a public speaking forum. As an added benefit, I will take it as a given that the idea you present is exciting to you and should represent a chance to enrich your professional career. Why not speak up and take a shot at inventing the job you'll love to have five years from now?
Here are some thoughts on the presentations that can keep things moving along:
Length: Distill and refine your message until you can fit it into a 5-7 minute time slot. Presenters will be given a visual cue at 5 minutes and will be cut off at 7 minutes.
Groups: Many minds make for strong ideas. There is no limit to the number of people in your group but as a practical matter you probably shouldn't have more than two people speaking during this short speech. Acknowledge your group members on a slide or handout and feel free to have them talk during the Q&A.
Preparation: It is not necessary to create a complete business case or write a thesis but having some basic facts at your command is in order. I generally find that I can speak to about 1 slide per minute and that it takes, on average, about 30 minutes per slide to research, create, and rehearse a good presentation. If you want information like staffing levels or financial data, work with your manager and they will help you get access. Likewise, do your homework on partners or competitors. Anticipate questions and have answers ready.
Presentation: It's no exaggeration to say that some of the most life-changing ideas started out as sketches on napkins. You don't have to create a Ken Burns special or a NOVA-worthy animation in order to get your idea across. Do create a story arc that describes what is happening now, what the opportunity gap is that we can cross, and how life will be when we get to the other side. Speak clearly and slowly. Rehearse several times. Don't create slides that are walls of text and then read them. There's time for facts and exposition later.
Above all, whether you are presenting or in the audience, we are doing this to make our own university and our own professional careers a better place. Let's welcome ideas and then welcome challenging discussion equally. I'm looking forward to seeing what everyone has in mind.
- Brett Coryell, Deputy CIO, OIT