News and Events
iBooks Author and iTunes U Courses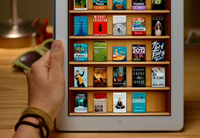 "The things I want to know are in books; my best friend is the man who'll get me a book I ain't read." - Abraham Lincoln
Last week, Apple unveiled two new education-related products: iBooks Author and iTunes U Courses.
iBooks Author enables users to create highly interactive, attractive eBooks that can either be given away or sold in Apple's iBooks store. Correctly rumored to be "GarageBand for iBooks," the application makes it easy to graphically lay out the book with inline Keynote presentations, videos, audio files and sophisticated visual spreads.
The books can be downloaded and read in the iBooks app on iPads, where readers can add notes or highlights. Books created are in a proprietary variant of the ePub format. iBooks Author can be downloaded for free from the Mac App Store on any Lion-enabled Mac.
There have been relatively few software tools for authoring electronic books released over the past few years, and the software that's been available to generate eBooks has either come with a steep price and learning curve or has provided a number of technical barriers in terms of formatting and design.
iBooks Author allows for precise control of layout and functionality, made possible via direct previewing on an iPad while an eBook is being assembled. iBooks Author does, however, add an extra layer of design considerations because it defaults to re-flowable mode for portrait orientation (allowing for font size changes but shifting media elements to the left margin) and to fixed layout mode for landscape orientation (disallowing font size changes but displaying media elements properly inline with the text).
Looking to the future, we are hopeful that Apple will eventually release a desktop version of iBooks so that works created with iBooks Author won't require an iPad to be viewed.
We live in a media landscape filled with high quality imagery and interactivity, and students have begun to expect that their scholarly materials match this level of visual sophistication and engagement. Because it's freely available and easy to use, iBooks Author opens up the possibility for the first time for faculty and students to generate their own rich-media eBooks that can be easily distributed to a global audience.
For more info: http://www.apple.com/ibooks-author/.
Below Right: Mock-up of the new iTunes U app.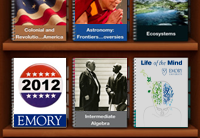 iTunes U Courses
iTunes U Courses are viewed through the new iTunes U app, which is a free download to your IOS 5 device. Full functionality is not yet available in the desktop app.
The new iTunes U app adds value to iTunes U by allowing bundling of all course materials. In addition to audio and video files, which were always supported in iTunes U, instructors can now upload many file types and easily organize those within the iTunes U Course Manager tool.
Features:
Ability to upload images, links, documents, Keynote and PowerPoint presentations, and audio and video files, all accessible within the course, without the need to launch additional apps
Updates and additions to the course are pushed immediately to subscribers' IOS devices
Students' own highlighted text and notes are indexed and can be transferred onto digital note cards for study
Courses can link to any materials on the web, including iBooks that may be associated with the course
Courses can be uploaded to iTunes U or kept more private through the sharing of a generated URL
Although the information flows one way, from instructor to student, for the first time subscribers can access course materials in one app. The simple to use interface of the Course Manager makes creating your own course a snap.
Instructors interested in using the iTunes Course Manager tool may request an account by emailing itunes@emory.edu.
- Steve Bransford, Lee Clontz and Shannon O'Daniel, Academic Technology Services
---
Recycle Mania Is Here!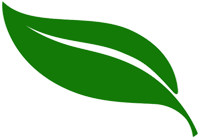 The "Green Swish" indicates stories or ideas emphasizing our Division's efforts to be sustainable.
Recycle Mania at Emory starts February 5th and goes through March 31st. It's a friendly competition amongst colleges and universities to promote waste reduction and recycling production. Our divisional measures include the Gorilla Prize for paper, cardboard, bottles and cans, and targeted materials include White Paper and Compost. Emory Recycles does an amazing job with collections here at Emory and they need us all to pitch in where we can with recycling paper, aluminum, cardboard and more...during RecycleMania and all year round.
There is a monthly report showing how much each building contributes and the building at Emory with the biggest numbers overall is the Whitehead BioMed Rsch Bldg, recycling 60,000 pounds of material (26% of Emory's total numbers). As for UTS recycling:
| | | | | | |
| --- | --- | --- | --- | --- | --- |
| Building | Plastic | Aluminum | White Paper | Mixed Paper | Grand Total |
| 1599 | 208 | 584 | 3024 | 3262 | 7078 lbs |
| 1762 | 286 | 804 | 3888 | 4428 | 9404 lbs |
| NDB | 26 | 74 | 216 | 466 | 782 lbs |

Links of Interest:
Coming soon: Earth Hour (March 31 @ 8:30 PM, "lights out" for 60 minutes) and Earth Day (April 22 - the 42nd Anniversary "Mobilize the Earth")
Til next time - reduce, reuse, recycle and where you can, turn it off or turn it down!
- Dawn Francis-Chewning, Business Analyst, Academic Technology Services
---
Telling Emory's Story Through New Online Platform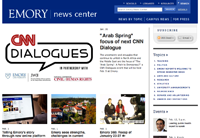 A snapshot of the Emory News Center website.
Emory University has created a new, visually bold and engaging online center that brings together rich multimedia content in a single platform with the ability to reach audiences directly through an array of media channels.
The Office of Information Technology's Web Design Group helped develop the customized Cascade site, led by developer Emily Porter and manager Rachelle Willoughby (both in Research & Health Sciences).
The Emory News Center, which launched January 26, offers new online features and services for the approximately 4 million visitors to the University's site annually, including members of the Emory community.
In addition to combining content and resources from across the University into a single, easily searchable site, the News Center also will offer topic-based RSS feeds to other Emory sites and mobile applications that will increase exposure to Emory's stories while providing tailored content based on consumer preference.
Aggregating top news and branded feature content that will help create a more unified and compelling voice for Emory
Offering an enhanced campus news focus that leverages Emory Report's brand and content as a primary news source for faculty and staff. The News Center represents the next step for Emory Report's evolution as an online-first publication. It will supersede the Emory Report website, which can still be searched online. The Emory Report eBulletin will distribute highlights of the latest news, events and announcements from the News Center
Providing a platform to display Emory content that all of the University's online promotions can point to—including blogs, social media, emails and ads––as well as providing a content-rich landing page for people who arrive at the University's website through content searches
Affording the ability to tag content and group related content around particular topics. The News Center will provide more than 160 topic-based RSS feeds, thus increasing consumer engagement and tailoring delivery to key audiences
Giving visibility to many of the stories that happen across campus, drawing together diverse and global stories from a variety of sources and will provide rich authentic content and make it relevant to millions of online consumers
The News Center was developed and implemented over the past 18 months by the Office of Communications and led by a steering committee including John Mills, Jill Hennecy, and Nancy Seideman. Erica Endicott and Wendy Darling also played key roles in the News Center's development.
"The Emory News Center is a great representation of a collaborative, native Emory effort to create a communications channel for the 21st century," says Willoughby. "The expertise of the development team enabled us to extend the functionality of the Cascade Server content management system by creatively designing the architecture of the application and its ability to synch content."
Questions about the new site can be sent to news@emory.edu.
- Kim Urquhart, Editor, Emory Report