Process Corner
Search Updated to Include KB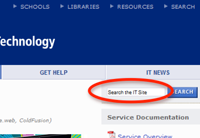 The new Google Search Appliance.
Your ServiceNow Knowledge Base (KB) articles are now available via the OIT website. This functionality is provided by the Google Search Appliance.
The Appliance will search the ServiceNow KB when the Service Catalog's "Additional Information" option or the OIT Search option is selected. The general search option will search ServiceNow articles in addition to information stored on other Emory websites. Also, the Appliance will allow the "Additional Information" option to dynamically pass the Service Catalog's Service Name, along with any documented alias, directly to the ServiceNow KB to create an initial user search.
Today, keywords are generally entered into the Keywords field within ServiceNow. The Google Search Appliance requires keywords to be present in the BODY of the ServiceNow article being searched. If the keywords are not naturally occurring within the text of the ServiceNow article, then one can add keywords to the "More Information" section of a ServiceNow knowledge article.
When the Appliance searches ServiceNow, it displays all articles with a Role of "Public" regardless of the article status (Draft, Review, and Published). To eliminate non-Published articles from prematurely displaying on the OIT Website, we recommend changing the default role assignment to "itil, Knowledge" rather than to the "Public" role as it currently does today. In addition, we would like to restrict the ability to make articles public to the Knowledge Champion.
This means that when an article is intended for public consumption, the Knowledge Champion will need to select "Mark Public" to update the role to public as part of the publishing process.
We would also like to enable the out-of-box functionally called Referencing KB Articles. This option will be available in edit mode and will identify articles which are linked within other articles in ServiceNow. The Knowledge Champion will be expected to review this field and reconcile any links listed in the field before deleting or retiring a Knowledge article. This new option and procedural change will prevent broken links when ServiceNow articles are removed from the ServiceNow KB.
Please note: This option will not identify links referenced outside of ServiceNow.
We are in the process of removing outdated How-Tos and FAQs so that only the current ServiceNow documents will display. If you have content that is obsolete and you have not been contacted by the UTS Knowledge Manager, please send an email to ITSMO@emory.edu.
- Rose Harris, IT Service Management Specialist, Integration
---
2012 Registration For ITIL Education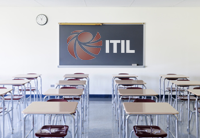 "The only thing that interferes with my learning is my education." - Albert Einstein
The ITIL Qualifications scheme provides a modular approach to the ITIL framework, and is comprised of a series of qualifications focused on different aspects of ITIL Best Practice, to various degrees of depth and detail.
The levels of qualifications within the scheme are ITIL Foundation, ITIL Intermediate Level, ITIL Managing Across the Lifecycle, ITIL Expert Level, and ITIL Master Qualification.
Registration for ITIL education in the 2012 calendar year is now open.
ITIL® Foundation Certification: This course provides participants with knowledge of ITIL v3 terminology, structure, basic concepts and core principles of IT Service Management. It is the required first step to advance to intermediate training.
| | | |
| --- | --- | --- |
| Course | Date | Registration |
| ITIL Foundation | Monday, March 26 – Wednesday, March 28, 2012 | *Form |
| ITIL Foundation | Tuesday, June 5 – Thursday, June 7, 2012 | *Form |
* You will need to include the participant's name, email and appropriate 10-digit Smart Key.
---
ITIL® Intermediate Certification: Capability courses are for process owners, process managers, subject matter experts, etc. to learn how best to apply the ITIL framework operationally.
Lifecycle courses are more management oriented, ideal for Service Managers, functional managers, etc.
| | | | |
| --- | --- | --- | --- |
| Course | Description | Date | Registration |
| Lifecycle course - Service Strategy | Service Strategy principles and processes, Governance, Financial, Demand, and Service Portfolio Management | February 6-9, 2012 | Please contact us at ITSMO@emory.edu |
| Capability course - Service Offerings and Agreements | Service Portfolio, Service Level, Service Catalog, Demand, Supplier, Financial Management, Business Relationship Management | April 9 -13, 2012 | Please contact us at ITSMO@emory.edu |
| Capability course- Operational Support and Analysis | Event, Incident, Problem, Access management; Technical, Application, and Operations Management functions; Request Fulfillment, Service Desk | June 18-22, 2012 | Please contact us at ITSMO@emory.edu |
| Lifecycle course - Continual Service Improvement | Continual Service Improvement principles, processes, methods and techniques | August 6-9, 2012 | Please contact us at ITSMO@emory.edu |
---
Certification Highlights:
The Foundation course cost is $400 per participant (Retail rate of $1495) Each Foundation course is 3 days with exam
The Foundation course is a prerequisite for any of the Intermediate courses
The Intermediate course cost:

Lifecycle courses - $900 per participant (Retail rate of $2195) - Each course is 4 days with exam
Capability courses- $1000 per participant (Retail rate of $2495) - Each course is 5 days with exam

Registration will be confirmed within 72 hours and participants will receive a meeting invite with the course particulars
Facilitators are Accredited Trainers and Emory staff members from the IT Service Management office within OIT
Courses will be located in the North Decatur Building, 2nd floor conference suites
Course offerings can also be found on the SMCC website. To learn more about ITIL visit the ITIL official website. Questions and requests about classes should be directed to: ITSMO@emory.edu.
- Nicole McFarland, IT Service Manager, Integration