Reward and Recognition
High Five For the Student Tech Support Office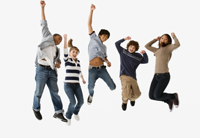 "Well done is better than well said." - Benjamin Franklin
A big high five goes out to the Student Tech Support office for an amazing spring back-to-school. Robert Kruse (Academic Technology Services) coordinated the effort with Robin Horton and Haynes Chewning assisting. Others from Student Services and ATS volunteered their time through the week to assist close to 450 students in the first 4 days of class.
The Student Tech Office, which provides OIT's main front line support to the Emory student body, is only open 10 AM – 5 PM, so this was a lot of students helped in a short amount of time. If they have a Service-Now ticket, then that means someone actually touched a student's computer (or tablet or smartphone), whether wireless setup or malware assessment, or hardware analysis.
The increase in traffic they saw compared to last year's first week was pretty much directly related to the MINs that were released for the wireless network and network registration service that week. What also made that week difficult was that there was only one day when classes were not in session. Therefore, Tuesday the 17th was the only day when the office had student staff able to work the entire day. Handling the workload during that time would have been nearly impossible had it not been for members of Student Services and Faculty Services of ATS volunteering their spare time throughout those days.
Members of the network team work directly in the Student Technology Support office and were invaluable as they continued to notice new symptoms of issues with wireless connectivity.
Stats:
Over all, they saw 421 students over the first four days they were open in 2012.
1/16 - MLK Day
1/17 - 151
1/18 - 140
1/19 - 77
1/20 - 53
Thanks to Robert and his team for all of the very hard work.
- Kim Braxton, Manager, Academic Technology Services
---
Service Desk Kudos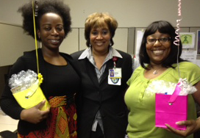 Congratulations on a job well done!
Kudos to Jymbellyn Carthon and Geneva McCants (both of the Service Desk). Betty Hickey, Supervisor, Business Patient Acct/Admit Cardiology Services EUHM Midtown stopped by the Service Desk to surprise, treat and thank the Analyst for going beyond the call of duty to assist her with problems she was having with processing a large move request in the OIT Shopping Cart. Great job!
---
Data Warehouse Kudos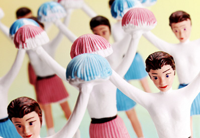 Goooooooo team!
Rosa,
I wanted to let you know how much we appreciate the work you and the DC Team have done to support our very successful implementation of a radically new data warehouse process. Feels like we've been flooding you with emails, phone calls and meetings for weeks now. Especially the last few days. Thank you, thank you, thank you.
I especially want to give a shout out to these folks:
Tony Young, for wrestling successfully with a very complex Control-M setup
Tim Marler, for sage advice and general guidance
William Bryant, for nailing that DNS change right on schedule
Jim Fordham, Sarge Sarju and Sean Deaver, who kept a close eye on the old and new jobs, letting us know if they seemed to be running too long
Rosey Neal and Cecilia Peters, for being unfailingly helpful and pleasant on the night shift this past week.
Please forgive me if I've overlooked anyone. These are the folks that I know for a fact have gone above and beyond. I'm sure there are others.
And again, thanks to everyone in the Data Center. We couldn't have done any of this without your top-quality assistance.
Cheers,
- Bruce Douglas, Data Warehouse Technical Lead, Emory Healthcare