Staff Bytes
Luc Goes Back to South Africa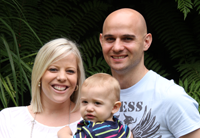 The Dalla Venezias.
Over the holidays Luc Dalla Venezia (Integration), his wife (Kim) and son (Luca) returned home to Johannesburg, South Africa to visit their family and celebrate Luca's first birthday. If you have never visited Johannesburg, it's the most populous city in South Africa with around 7 million people, second only to Cairo on the continent. Forty-percent of the world's gold is found around Johannesburg, which happens to also be referred to as "Egoli," meaning the "Place of Gold."
December is a crazy month in the Dalla Venezia household with 6 birthdays between December 22nd and December 30th, and wrapped around the Christmas holiday. It was a great excuse to get the family together and have everyone meet Luca and catch up with faces that we have not seen for a while.
The weather was amazing (it's summer time at the moment in South Africa) and the days were filled with soaking up the sun. Unfortunately, Kim is over seven months pregnant with our 2nd son and she didn't enjoy the heat. We also took a little trip while we were there to Ballito, which is a coastal town just North of Durban to take advantage of the sun and to enjoy some sea and sand.
We made the most of the outdoor living while enjoying what is called a "braai" back in South Africa (similar to a grill) with great steak, lamb chops and lobster. The food in South Africa is amazing and affordable; we were able to eat like kings without having to blow the budget. South Africa has not changed much since we have left other than some significant modifications to the road infrastructure as a result of hosting the 2010 Soccer World Cup.
It was great to be back in South Africa and now it's great to be back home in Atlanta, GA.
South African terms you may not know:
Braai (as mentioned earlier) – a barbecue, to barbecue (from braaivleis grilled meat)
Biltong (we ate tons of this) – dried meat, similar to jerky
Robot – this is what we call a traffic light
Boerewors - spicy sausage (Afrikaans) farmer-sausage
Ag Shame! - This one is used a lot - Can be used in various contexts as in "that's adorable!" or "that's horrible!" can be confusing but it's always a reaction to something
Ja-wel-no-fine - This is another conversation fallback. Derived from the four words: "yes", "well", "no" and fine", it roughly means "OK". If your bank manager tells you your account is overdrawn, you can, with confidence, say: "Jawelnofine."
- Luciano Dalla Venezia, IT Service Manager, Integration
---
Where is John Wang?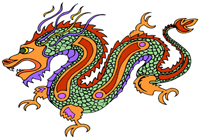 The Year of the Dragon is said to be the luckiest in the Chinese Zodiac.
Happy Chinese New Year!... 中國新年快樂!
On Monday, January 23rd, we celebrated the Chinese New Year with my wife's family. Per tradition, we watched a big fireworks show then had a big dinner of chicken, pork, fish, beef and various vegetables. The dinner lasted until midnight, at which time we all said "Bai Nian," which is Chinese for "best wishes and have a great new year." Parents also usually give their young children a New Year's allowance, which is put in a red envelope (called a "red package").
The hot topic people talked about during the celebration was transportation in China. It is estimated that between January 8 and February 18, the Chinese transportation system would handle 3.1 billion passengers, which is almost double the entire population of China. Trains, airplanes, and long-distance buses were so overloaded that many people were unable to purchase tickets.
The large traffic numbers are due in part to the expanding Chinese economy, which allows more people than ever to be able to afford travel and afford private vehicles. Every day about 300 new private cars join the streams of vehicles in the city where we are currently living. The immense traffic numbers also contribute to the air pollution problems we experience here.
This is the Year of the Dragon, which is considered the luckiest of the Chinese Zodiac. It is also a symbol of great personal energy. I wish for my family to be healthy and that our transition back to the United States goes smoothly.
- John Wang, Enterprise Middleware Architect, Integration