Update From Brett
What Road Are You On?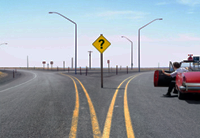 Which way will you go?
I met with a management consultant earlier this week and had to laugh inside when she asked me where I had received my management training.
I'm sure she was expecting me to name a business school or training institute for leadership. But I believe that becoming a good leader or manager has got to be the least definable process imaginable.
Little quotes ran through my mind in the two seconds I took to consider how to answer:
Maybe it sneaks up on you the way Chief Dan George says, "Now old age is sneaking up on me" in The Outlaw Josey Wales. No, I don't know why that came to mind.
Maybe you sneak up on it the way fog shows up "on little cat feet" in a poem by Carl Sandberg. Again, strange how I thought of that.
Maybe it has to do with whose "school of management" I went to. A director referred once to "the Betty Troupe school of management" from which someone was never going to recover. I've been to many people's "schools of management" in this sense of the word but I think you never really forget your first.
Maybe it's formal training, but like Sinatra's "Regrets, I've had a few" I've really had "too few [formal management training courses] to mention." I did Sprint's sequence of courses for first level managers. We have MDP, ETL, and WLA (the latter of which I have done).
What I actually said was, "Well, I started my career as a high school teacher and I think I learned a lot about reading people and how to work hard." Everybody laughed and that made me think that like Frost's two roads, it might not be a traditional path, but "it has made all the difference," for me at least.
What road are you on? I hope you're taking yourself past a j-o-b and into the realm of a craft, discipline, or art form by surpassing basic expectations and moving into the realm of surprising answers. One way to start might be to think about Rich's Extra Credit challenge!
- Brett Coryell, Deputy CIO, OIT