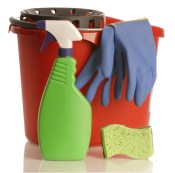 Computer infections happen
Sometimes, despite our best efforts, your computer might get infected with a virus, spyware, or other malware. Emory provides an on-campus resource for students to receive help from IT staff who are experienced in cleaning up computers. This team is known as Student Technology Support and is conveniently located at the computing center in Cox Hall. Have them take a look at your computer when you first notice the infection - don't let it fester, potentially collecting personal information or corrupting your system further.
What services do they offer?
Student Technology Support services are available only to Emory students (employees should contact their local IT support staff) and they will work to remove virus infections and restore corrupted systems to get you back to a working state. They will also install the Emory provided antivirus software and ensure it is up to date. Be sure to bring your laptop power cable and any restore/installation discs that came with your computer. Sorry, no house calls - the computer's owner must bring their computer to Student Technology Support.
When and where do I go for help?
For the latest information about Student Technology Support and other services they provide, visit their webpage. During the semester, Student Technology Support is open from 10am until 5pm, Monday through Friday. It is located in the back of the Cox Hall computing center, on the second floor of Cox Hall, above the food court. You can call them at 404-727-5093 for information about their services, but not for telephone support.
Attention Sophomores, Juniors, and Seniors!
Emory has switched from Symantec to McAfee for its AntiVirus software. You can download and install the new software for free by visiting https://software.emory.edu/express. There you will find a version for both Windows and Mac.