Lock it up
Summer is a particularly important time of year for the physical security of computers. Between vacations that leave computers in empty offices and people traveling with computers, the security of your computer, and the data on it, may be at risk. When you will be away from work for an extended period, make sure your computer, external drives and other copies of sensitive information are behind a locked door, in a locked cabinet, or under close supervision from others. Before traveling with your computer, make sure you have a current backup of your files.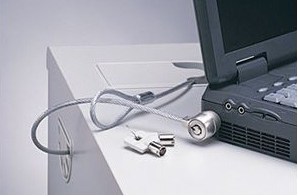 Secure it on the go
If you are traveling with a laptop computer or USB drives, don't get separated from your computer bag. When getting out of a taxi, bus or train; be sure you have all of your items with you. Bring a security cable and lock your computer to the table when you need to leave it momentarily unattended. Computers can disappear quickly when you briefly walk away to use the restroom or order another cup of coffee. Hotels often offer in-room safes that will fit laptop computers, which should be used when available. Also be sure to log off or lock your computer desktop whenever stepping away from it (see our prior awareness message on this topic for details: http://it.emory.edu/showdoc.cfm?docid=12949).
Employees - get assistance from local IT staff
If you don't have a cable and lock for your laptop computer, or aren't sure if your office computer is secure while you are away, contact your local IT support staff for assistance. Also contact your local IT support staff if you need help to make a backup of files from your laptop before taking it on a trip.