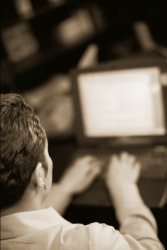 Social networking everywhere
While websites designed for social networking are not new, they have continued to grow and change over time.  They help people not only keep in touch with each other, but also with organizations and activities that interest them.  They have also become a new ground for scams and stalkers. 
Watch your privacy
There are many opinions on the appropriate level of privacy in social networking sites, sometimes falling along generational lines.  Regardless of your opinion, if you use sites like Facebook, you should take a moment to review your privacy settings.  When reviewing your settings, think about the variety of people who might see your photos, posts or profile facts: younger family members, co-workers, potential employers, etc.  Letting "everyone" or even "friends of friends" see information will open things up to a lot of people. 
Be cautious of "apps"
Social networking sites contain applications written by third-parties and connections to external commercial sites.  Some of these "apps" may have been written with malicious intent to collect your information or spam your friends with posts you didn't write.  Facebook provides some details on what an app wants to do when you first use it.  Pay attention to what information the app wants to access and if it wants to be able to make posts onto your wall.  You can review what apps currently have access to your Facebook information under "Privacy Settings" and then under "Apps and Websites."
One of the popular tricks used for spamming on Facebook and similar sites is to tempt you to agree to use an app to gain access to an interesting video or image.  These often use enticing phrasing like "OMG, this is the funniest thing ever!!" and then require you to authorize an application or "complete a survey" to see the video.  These apps then collect your information and post the same tempting link under your name to tempt your friends. 
Where's Waldo?
A variety of "location services" have arisen to either report your current location to social networks using your mobile phone, or to include location information with photos.  Use caution with these services and consider tightening your privacy settings if you choose to use them.  People following your posts could include a potential thief interested in the fact that you are not at home.  Also consider disabling the "geo-tagging" feature on your mobile phone as you may unintentionally reveal your home address to everyone who sees your picture on Flickr or Facebook. 
More information
Facebook's "Controlling How You Share" page: https://www.facebook.com/privacy/explanation.php
Sophos's recommendations for Facebook security: http://www.sophos.com/security/best-practice/facebook/
How to disable geo-tagging on various phones:
http://www.icanstalku.com/how.php