iOS
iOS
This page provides you with information on Apple iOS devices, including the iPhone, iPod Touch, and iPad. For general questions about the policy, be sure to read the FAQ.
How to backup an Apple device Backing up an iOS device (iPhone, iPad, iPod) can be accomplished by syncing the device with iTunes, or iCloud if you are running iOS 5. The article from Apple explains how to backup your device using either iTunes or iCloud.
How to update an Apple device: Updating an iOS device requires connecting it to iTunes to install the latest update if you're running iOS 4 and below. iOS 5 and above users can get updates by opening the Settings app, and then tapping General/Software Update.
How do I manually apply the security settings on my Apple iOS device? Instructions for manually applying the security settings to your Apple device may be found at the link below. This should only be necessary if you don't check your Emory e-mail from the device.
Known issues with Apple devices
What you should expect to see when the policy is applied to your device
Note: If you already have a PIN set to unlock your iOS device, you won't be prompted at all when the policy applies unless your current PIN is too simple. A simple PIN is one that uses ascending, descending, or repeated characters (e.g. 1234, 4321, 0000).

1. A pop up bubble will appear notifying you that you must set a PIN. If you choose to enter the PIN later, you will not be able to check for new mail messages or synchronize your calendar until the PIN is set.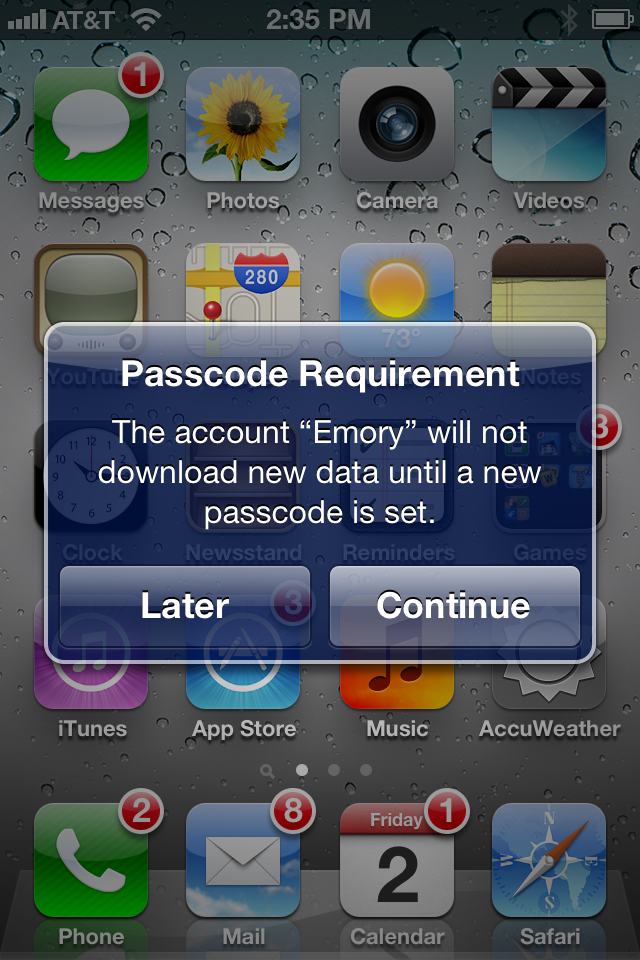 2. After you've selected "Continue" you will be presented with the dialog to enter your PIN. It will also describe the requirements of the PIN. If your PIN matches the requirements, you'll be asked to confirm it once more. It is very important that you choose a PIN that you can remember. Emory is not able to keep track of the PIN that you assign to your device and will not be able to help in the event that you forget your PIN.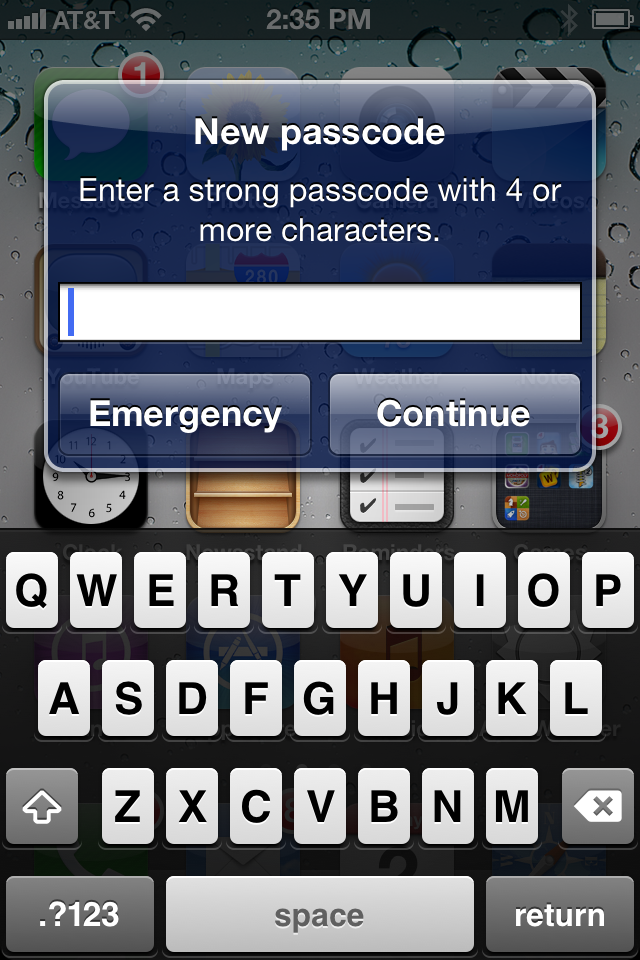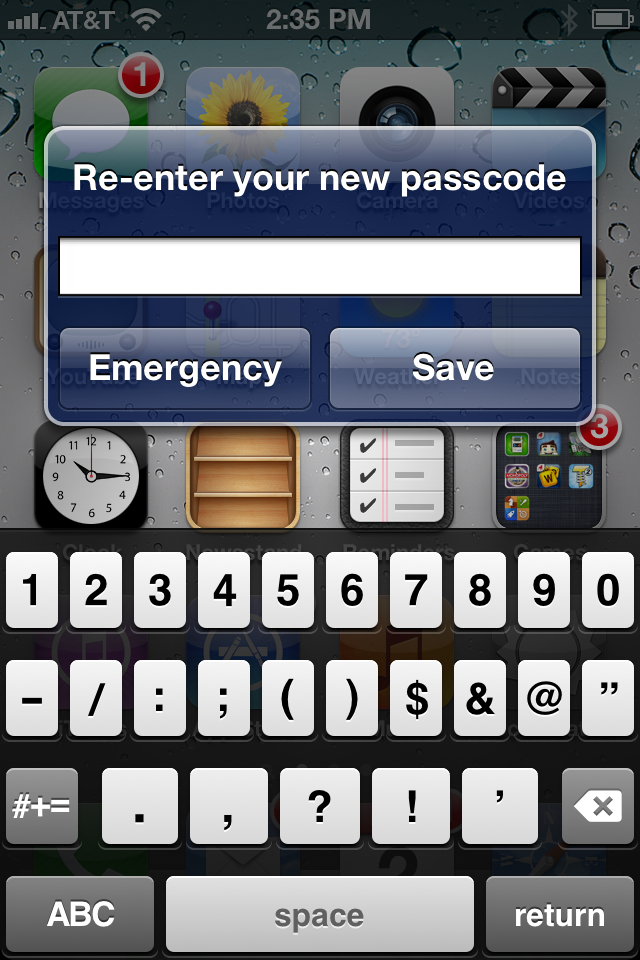 Is my device approved for storing sensitive Emory data?
The following table describes which Apple devices are acceptable for storing data classified as Emory Restricted or Emory Confidential. The devices marked "Yes" are only acceptable for storing such data when the device has been configured in accordance with
Emory's Smart Device Security Policy
. For more information on these data classifications, see:
Emory's Disk Encryption policy
.
| iPad | Yes | Any model of iPad |
| --- | --- | --- |
| iPhone | Yes (see note for restrictions) | Must be an iPhone 3GS or newer, running iOS 4.0 or later |
| iPod Touch | Yes (see note for restrictions) | Must be an iPod Touch 3rd generation or newer |