Network Access Control
Access to Emory's wireless network (EmoryUnplugged) is being upgraded. Beginning July 15, all users who attempt to use EmoryUnplugged will receive a message asking them to enter their Emory Network ID and password. Mobile devices (such as tablets and smart phones) will register automatically without being prompted.
This action will complete a device registration that will allow users to maintain wireless access. The system will also perform a scan for anti-virus software.
IMPORTANT: Users who do not have administrative rights to their machine will receive an error when trying to register and will not be able to access the wireless network until they contact their local support or the LITS Service Desk at 7-7777.
Detailed Connection Instructions
Step 1. - Open a web browser and try to connect to any website. This will capture your traffic and direct it to the registration portal.
Step 2. - Click START to begin.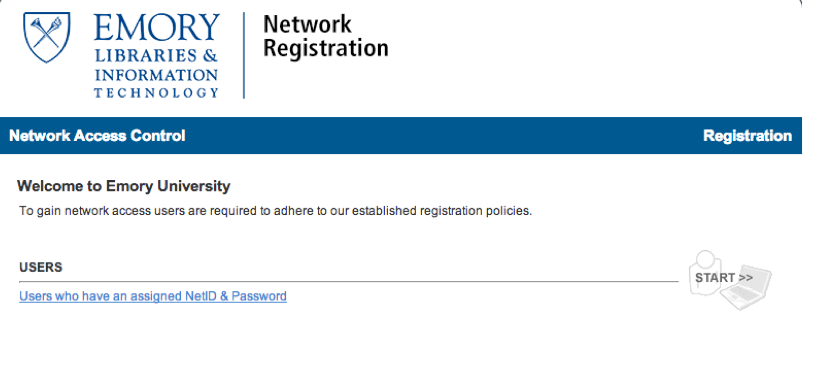 Step 3. - Enter your Emory NetID and password, and click Continue.
Step 4. - The Bradford agent will begin downloading. Once complete, you should install it (admin rights required).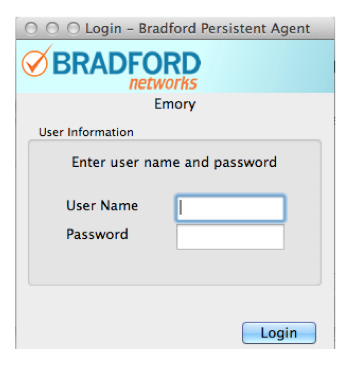 Step 5. - Once successfully installed, the Bradford agent will pop up. Enter your Emory NetID and password again, then click Login to continue.

Step 6. - The Bradford agent will scan your computer. If you are compliant, you will see a message saying you've successfully registered. If you are non-compiant, you will see that message, but will still be allowed to connect.