LITS Annual Report: Risk Reduction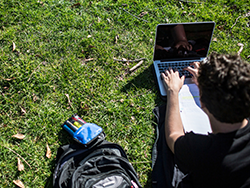 Reducing risk is a key element in combating the modern concerns inherent in today's high-speed, internet-based academic environment.   In FY16, LITS protected its data through stronger identity and authentication management.
Duo 2 Factor Authentication
One of the major initiatives of the Enterprise IT Security Team was to implement the Duo Two-Factor Authentication Project. Two-factor authentication enhances security by using a second device to verify one's identity and Duo is the third-party vendor working with Emory to implement the system. All Emory users were required to enroll in Duo to access systems such as PeopleSoft HR, Office 365, and OPUS from off-campus locations.
Core Migration Project
The Core Migration team worked to engineer, implement, and deliver a solution to our aging core infrastructure while working together to minimize customer impacts, harden the enterprise network environment, and provide a scalable, secure solution to Emory's current and future needs.
Project planning, coordination and execution were cruicial and the team worked tirelessly over 18 months to deliver our next generation network design outside of business hours to minimize impacts while performing their regular duties and tasks. The Emory enterprise network now has a middle or distribution layer that protects the core routing functions while still providing a scalable and flexible network for our user base. Most importantly, we have modernized these network layers that will help provide Emory a robust, secure and flexible network for years to come.
MyNetID, Password Reset, and VLAD Migration
The department launched MyNetID and MyPassword, culminating a three-year effort to upgrade Emory's identity and password management processes. The purpose of this project is to improve Emory's security posture, meet audit requirements and provide an easier, self-service process for updating user passwords. MyNetID allows users to manage their overall network identity account, while the MyPassword tool gives users a way to reset user password and implement security questions. Messaging team and Identity management collaborated to implement a consolidated LDAP directory that can be used across EU and EHC. The team successfully migrated to Microsoft LDS infrastructure.
<< Innovation | New Opportunities >>
"In the coming months, Duo will be required for external access to all of our critical systems, making it much more challenging for hackers to compromise the credentials of anyone in the Emory community."
Rich Mendola
Enterprise CIO and Sr. Vice Provost of Library Services & Digital Scholarship