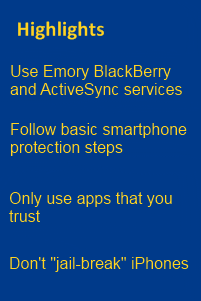 The rise of smartphones
The last few years have seen a surge in the popularity of smartphones that provide internet access and a wide variety of features while on the go. Mobile phones are no longer basic devices, but are now compact computers running applications and storing your data.
What should I do to protect my smartphone?
The basic steps for all phones are to keep your software up to date, require a password to use your phone, and have your phone require the password after a brief timeout period. Certain phones may have more advanced security options. For instructions on the basic steps for securing your smartphone, read this Emory webpage: http://it.emory.edu/showdoc.cfm?docid=12749 Be sure you have a backup of your contacts and other information on your phone - phones can easily be lost, stolen or broken.
Emory smartphone services
Emory offers smartphone services that allow for optimal integration with Emory Exchange services, as well as management of advanced security features. If you have an Emory-funded BlackBerry phone, it should be managed using the Emory BlackBerry Enterprise service. See http://it.emory.edu/exchange-blackberry for details on costs and requesting the service. If you have a smartphone capable of using ActiveSync (iPhone, Windows Mobile, etc), instructions on configuring it to use ActiveSync with Emory Exchange are available here: http://it.emory.edu/exchange-activesync
What about my apps ?
It has become popular to say there's an app for that when it comes to smartphones. Unfortunately, there are also apps that use your personal information inappropriately. Just like on your computer, you should only use software that you trust. Phone app download sites like Apple's app store don't fully evaluate the security of the software before distributing it, so be cautious when installing apps.
What if I lose my smartphone?
If your smartphone is lost or stolen and was using Emory smartphone services, contact your local IT support or IT service desk for assistance as soon as possible. BlackBerry phones using the Emory BlackBerry Enterprise service can be remotely wiped of personal data. Also, many phones using ActiveSync with the Emory Exchange server, including iPhones, can be remotely wiped of personal data.
What about jail-breaking my iPhone?
Some iPhone owners have used a process called jail-breaking to use advanced, but unsupported features. This process also removes some built-in security protections and makes the iPhone vulnerable to attack. Recent iPhone worms have taken advantage of this vulnerability to steal data and redirect banking websites to criminal imitations. To keep your iPhone protected, do not jail-break it.