Staff Bytes
Caption Contest Results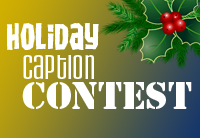 Thanks to everyone who submitted the hilarious entries! We never knew OIT had so many comedians and will likely do more caption contests in the future.
It just goes to show, you never know who's standing around with a smartphone when you are trying to have fun at a party!
This month, the Marcomm Team held a caption contest regarding some graciously-submitted photos from the OIT Holiday Party. The photos, depicting Dana Haggas (Enterprise Applications) and John Connerat (IT F&A) in rather humorous poses, generated a nice response from the division. While we would love to have printed everyone's submissions, there wasn't enough room, so the following are the best ones we received:
---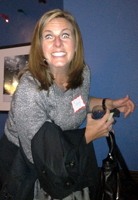 For Dana's Photo:
You're !@#$%! right I have the best teeth in this place. (José Rodriguez, Academic Technology Services)
This BOTOX treatment is AMAZING! (Kelly Bray, Integration)
Anyone have any really good sedatives? (Bruce Anderson, Infrastructure)
I just stole this purse and I am fiendishly happy about it. (Jason Stanaland, Infrastructure)
I just got kissed under the mistletoe! (Tom Vincent, Enterprise Applications)
I'm the real Michele Bachmann. (Marv Peck, Enterprise Services)
I have new managers, my pretties! (David Hauenstein, Infrastructure)
PeopleSoft is the real Skynet and it's become sentient. (Derek Spransy, OIT Security)
More wine, please! (LaKysha Mack, IT F&A)
Step away from the fried oreo... (Jay Flanagan, Infrastructure)
Step into my office for your performance review. (Scott Swann, PMO)
---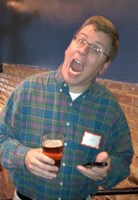 For John's Photo:
They gave you HOW many drink tickets? (José Rodriguez, Academic Technology Services)
Watch me eat this smartphone and chase it with a beer…I'M A GENIUS! (Kelly Bray, Integration)
Please don't drink and text. (Bruce Anderson, Infrastructure)
I just sent a drunken, inappropriate text to all of OIT…!@#$%! YOU AUTOCORRECT! (Jason Stanaland, Infrastructure)
Whoever heard of a hot beer? (Marv Peck, Enterprise Services)
You used WHAT smartkey?? (David Hauenstein, Infrastructure)
The OIT budget has a divide by zero error. (Derek Spransy, OIT Security)
Having played the role of Stu, where's my contract for Hangover 3? (Julie Moricle, Chemistry)
I'm special! (Geneva McCants, Call Center)
I just saved a bundle on my car insurance! (Peter Day, Integration)
---
For the Combined Photos:
Welcome to the OIT HAUNTED HOUSE!!! (Shannon O'Daniel, Academic Technology Services)
OneIT – That's goood stuff! (Andrew Chin, Infrastructure)
I DID brush my teeth...SEE? (Ramona Tucker, Infrastructure)
John got the last beer? I'll KILL him! (Sherri Meador, IT F&A)
Dana: Did you hear that John is getting married? John: AM NOT! (Tom Vincent, Enterprise Applications)
We are replacing MySoft with Quickbooks during the break...my present to you! Didn't you get the memo, John? (Richard Fischer, Enterprise Services)
---
The Eiserts Have Baby Boy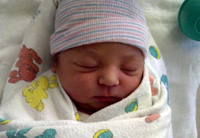 Ethan reminds us of Mark, except for the sleeping part!
On Monday, December 5th, Mark Eisert (Integration) and his wife Pauline were blessed with a baby boy named Ethan. Ethan weighed 8 pounds, 1 ounce and was 20-inches long. They wish to thank everyone for the support. It was much appreciated.
---
Where is John Wang: Cloud Computing in China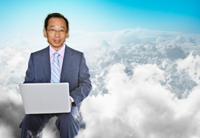 John Wang is truly "in the cloud."
"Cloud computing" is a hot topic today. Whether describing new ways businesses manage data or the synching of your personal computing domain, being "in the cloud" and understanding the advantages gained are essential in today's IT. With my experiences here in China, I shall borrow the word and modify it to "cloud officing."
My office is in the cloud because I am working from the other side of the Earth. I feel this arrangement is a new model of business. Information technologies make it possible for the world to indeed become flat, as Thomas Freedman described in his book, The World is Flat, in which he analyzes the leveling of the globalization playing field. Information technologies have changed the lifestyles of people, who can now be connected over various locations because of services available to them. It does not matter where they are as long as access is achieved.
I feel anywhere I am is my office because I have my Mac, Forbes, and Vonage. I can do my job because of the Internet, and my office is moving, flying, and performing in the cloud.
My office hours start at 6:00 AM EST time, as I work with my teammate, Gerry Hall (Integration). Here, that is 7:00 PM Beijing time. I am usually off-line by 2:00 PM EST time. That is early morning in China (3:00 AM). My father did not understand how I could work for Emory remotely. He asked me where my office was. I told him my office could be anywhere. It did not make any sense to him. For my friends, I am just like a computer hacker who sits in front of a computer, works deep into the night, and types magic words on a keyboard.
Because I work remotely for Emory at night, I have good excuses to turn down invitations to go to KTVs (karaoke TV rooms, very popular in Asia) or bars. My wife or I get my son, Matthew, from kindergarten at 5:30 pm from Monday through Friday. Matthew often asks me to join his "marathon" after he gets home (he likes running from one room to other - he calls the game "marathon" - I bet he learned the word from the international marathon held in Lanzhou this Summer).
"Marathon" is his favorite game. It is also a joyful moment for me before starting work each day. When I get home in the early morning (3:00 AM, 4:00 AM or even 5:00 AM, depending on work), the first thing I do is to move my son to the right position on his bed and cover him with his favorite blanket. It is a really happy moment and a happy end of the work day for me.
Working remotely for Emory from across the globe seems to be the very essence of what true cloud computing can achieve. I hope you have enjoyed this glimpse into my "cloud officing" from China.
- John Wang, Enterprise Middleware Architect, Integration
---
Coordinators Donate Toys To Local Firehouse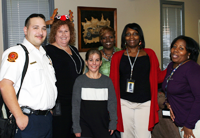 From L to R: Fireman Ditmore, Christina Mazzella, Tillie Loza, Candace Haley, Felicia Chaney, and Tia Hill. Not Pictured: Anne King. Also Not Pictured: The cute fireman Anne was hugging off-camera!
The UTS Coordinator Team donated toys to Fire Station 1 (1670 Clifton Rd.) for the station's annual Toys For Tots campaign. Originally, the team was going to do white elephant gifts but Marv Peck (Enterprise Services) suggested the team donate to the station instead. On December 14, Felicia Chaney, Candace Haley, Tia Hill, Anne King, and Tillie Loza (all of Enterprise Services), and Christina Mazzella (IT F&A), took the gifts to the fire station, where they were happily received.
One interesting side note, the toys were collected under a tree which was adorned with pig lights, which were handed down from Connie "Big Mama" Gentry from the Netcom days.
---
Happy Birthday, Brett!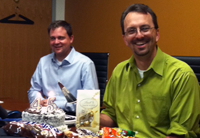 "Invention, my dear friends, is 93% perspiration, 6% electricity, 4% evaporation, and 2% butterscotch ripple." - Willy Wonka
Brett Coryell (UTS) celebrated his birthday in a Director's meeting in early December. Knowing their boss' tastes quite well, the Director team presented him with an abundance of candy. When asked why candy was the gift of choice, Dana Haggas (Enterprise Applications) replied, "He just loves chocolate. He's a modern day Willie Wonka."