Cover Story
Global Shakespeare Transforms the Academic Mission Through Technology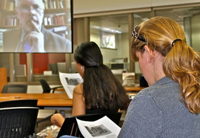 Emory Students converse with Dr. Quarmby in an ECIT classroom.
In a ground-breaking academic use of technology, Dr. Sheila Cavanagh, a professor of English at Emory, and Dr. Kevin Quarmby, an award-winning actor and academician from London, are co-teaching Dr. Cavanagh's Shakespeare classes, despite being over 4,000 miles apart.
In this virtual classroom, students act out some of the Bard's greatest works and talk about the differences in production between American and English stagings, while being critiqued by "Dr. Q," as Quarmby is sometimes called, using the latest advances in real-time streaming audio and video.
Wayne Morse (Academic Technologies) leads the Emory Center for Interactive Teaching (ECIT) effort to make this endeavor possible, and will co-present with Dr. Cavanagh and Dr. Quarmby at the Shakespeare Association this spring regarding the initiative. This speaks not only to the success of the venture, but offers a model for a new relationship between faculty and the instructional technologist.
The World Shakespeare Project is an Internet-based, teaching and research model and is being supported by the Halle Institute for Global Learning at Emory University. Dr. Cavanagh and Dr. Quarmby are the co-directors of the project, which seeks live engagement via the Internet with international, often isolated, academic communities.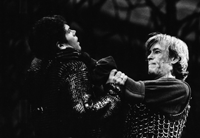 Dr. Quarmby has been an actor on television and stage for over 30 years and has worked with such renowned actors as Peter O'Toole and Christopher Lee. With a PhD in Shakespeare and Early Modern Drama at King's College in London, he is a journalist, author, theater critic, and educator who has taught courses all over the world. His title for this project is Shakespeare Performance Specialist in Virtual Residence at Emory University.
Above Right: Dr. Quarmby being strangled by Peter O'Toole in the 1980 Old Vic production of Macbeth.
Dr. Cavanagh and Dr. Quarmby met in India at a Shakespeare conference and decided to Skype a class together at Emory. As the Emory College Distinguished Teaching Scholar, Dr. Cavanagh was charged with creating new teaching and learning methods, so why not acting-related workshops using streaming technology? The classes, which began in the Spring of 2011, have been an enormous hit with students and were the genesis of their current co-teaching model. Students get to know and communicate with Dr. Q and enjoy a wonderful opportunity to work with various teachers internationally.
The goal of the project is to use Shakespeare as a medium to bring the world together, not just take Shakespeare to the world. To that end, they have begun working with faculty and students in West Bengal, India and Morocco. These students have never been involved in international intellectual discussion, and their local artistic interpretations of Shakespeare have been eye-opening.
"It has been interesting to explore the language interpretations and nuances between the UK, India and the Emory students," said Dr. Quarmby. "There was a wonderful moment where they performed the Witches Scene from Macbeth in West Bengal and it was spectacular because they were speaking in their local dialect. Passion and intensity are universal and transcend language barriers."
Another facet of this collaboration is the inaugural Maymester course, which starts the day after graduation and runs until June 1st. Titled "International Shakespeare in a New Media World," the course will feature daily three-and-a-half hour sessions and provide a semester's worth of credit. Rather than being a regular course squeezed into three weeks, it will take advantage of the virtual format to bring some of the acting luminaries that are affiliated with London's Rose Theatre to the students in the course, as well as link with other students abroad.
Below Left: The modern Rose Theatre.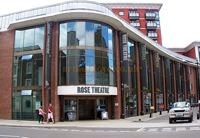 The Rose Theatre's involvement began when its Artistic Director, Stephen Unwin, invited Dr. Quarmby to a private function in honor of the Rose's patron and Professor Emeritus, Sir Peter Hall. Sir Peter, founder of the Royal Shakespeare Company, was accompanied by Lady Hall and the actress Jane Asher. Unwin saw this collaboration with Emory as an opportunity to promote outreach projects with the Rose Theater in Kingston, on the Thames. "He nearly bit my arm off," said Dr. Quarmby, "immediately wanting to know more about what we were doing with Emory." Unwin offered the space at the new Rose Theater, which is a modern interpretation of the renowned Rose Theater on the South Bank of the Thames.
The Rose Theatre serves as a UK base of operations where Dr. Quarmby can conduct Skype lessons and call on major British theater stars who have agreed to discuss Shakespeare with the students. For Maymester, they have the opportunity of using an actual London venue and really expanding the breadth and depth of the project.
Dr. James Wagner, Emory's President, and Dr. Earl Lewis, Emory's Provost, have talked at length about using new technology to create a model for all of higher education, not just in the humanities, and this project does just that. For example, the Goizueta Business School is interested in the World Shakespeare Project because of the videoconferencing and collaborative process being employed. The project team has been invited to create a module for the Executive MBA program, demonstrating more effective use of technology to conference and communicate.
Shakespeare serves as a catalyst for much wider relevancy to international curricula and communication than merely acting on the stage. This effort applies to an entire set of classes where technology can enable students to break beyond the boundaries of Emory's campus to engage experts around the world. The question becomes what types of technologies are relevant to different instructional modalities and how does Emory position itself to become even more adept at recommending instructional technologies.
Below Right: Dr. Quarmby, Liveryman of the Worshipful Company of Poulters, a charitable institution in London.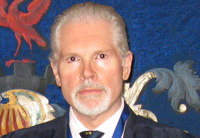 It has been a tremendous advantage for Dr. Cavanagh to teach the class right in the classrooms at ECIT, using both the equipment and expertise the center provides. Starting this semester, UTS and ECIT staff meet with the World Shakespeare team every other week to test a number of different initiatives, such as Skype versus Adobe Connect or the pros and cons of face time and microphones. Included in these meetings are Steve Bransford, Alan Cattier, Chris Fearrington, Wayne Morse, Shannon O'Daniel, Brenda Rockswold, and José Rodriguez (all from Academic Technology Services).
This project is an incredible opportunity for Emory as Dr. Cavanagh and Dr. Quarmby work with campus leaders to make the effort sustainable through additional funding and technological support, serving as a concrete example of how technological innovation directly enhances our academic mission.
As Shakespeare wrote, "all the world's a stage," even in a classroom. And the advance of educational technology is "as constant as the Northern star."