Update From Brett
Fight the Winter Malaise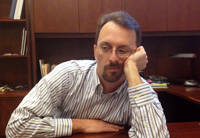 How can Brett shake a winter malaise?
Do you feel tired lately? Are you fighting the midwinter malaise? I am. The third quarter is always the toughest because the final push for end-of-year hasn't kicked in yet. All too often we find ourselves losing focus on the urgency of our goals.
And yet, this is the time of year when we can make significant progress on our "Hero's Journey." Think of where you are with the goals supporting your own journey. Have you completed your training plan? Are you working on Rich Mendola's extra credit assignment? Have you planned your next vacation?
To help you stay on your journey, there are a number of cures for the midwinter malaise.
Connect with the academic life of Emory. Some examples, professor's lectures can be fascinating, the Carlos Museum has new exhibits, there are campus concerts, a lunch-time chamber music series, student art festivals, and a calendar for arts at Emory. Your job is not to just go to meetings. Get out and discover all that a Top-20 university has to offer.
Get involved in an exercise program. Visit the Blomeyer Health Fitness Center or the Woodruff PE Center. Join a walking group or a biking club. Set some fitness goals.
Get out of your office and find your favorite place on campus to work. I love to go to the bridge between Candler Hall and the Woodruff Library, which has a few desks and big picture windows. If you need time to escape, don't go home, don't close your office door, go out on campus and work.
A lot of us chose Emory or higher ed because we didn't want to be trapped. We wanted to connect with something bigger than ourselves and it is too easy to lose track of that.
- Brett Coryell, Deputy CIO, OIT