Meet New Employees
Kendra Bryant, Business Analyst, R-WIT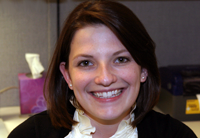 Kendra Bryant is working AND learning at Emory as she gets her Master's of Public Health degree.
Having joined Research & Woodruff Health Sciences IT in February, Kendra works with the Laboratory Information Management System (LIMS) team and is helping with lab implementations.
Lately she has been working with Yerkes, Children's Healthcare of Atlanta (CHOA), and the Glenn project. Prior to joining OIT, she was a research technician in the School of Medicine at Emory.
A graduate of UGA, Kendra got her degree in Chemistry. She is currently working on her Masters of Public Health part time at Emory.
Originally from Lilburn, GA, she loves spending time outdoors and reading. Her favorite book is Dickens' Tale of Two Cities. Kendra is the proud owner of a rescued dog named Harley.
Kendra can be reached at kabryant5@emory.edu.
---
Lyndon-Michael Gordon, Enterprise Middleware Admin, Integration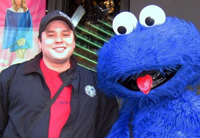 When you work at NASA, you have many close encounters. Oh, and Lyndon-Michael is on the left.
Lyndon-Michael is the Integration team's newest middleware admin. Before coming to Emory, he was a System Administrator for EBS Deskside Services at Air Force Plant No. 6 - Dobbins ARB with Lockheed Martin.
Prior to that, he was a Software Engineer for the Operating Systems Group at NASA Johnson Space Center at Lockheed Martin.
He had the privilege of working with the NASA Space Shuttle Program at JSC, in Houston, TX, and then moved on to the ending of the F-22 program at the Lockheed in Marietta, GA.
Lyndon-Michael plans to finish his MBA. As a side note, he was a college radio DJ at 100,000-watt WRAS Atlanta, the largest "student run" station in the US.
You can reach him at lyndon-michael.gordon@emory.edu.
---
Susan Henschen, Business Manager, R-WIT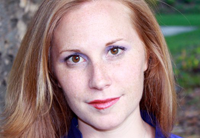 Susan is looking forward to promoting the projects of the talented people in R-WIT.
Susan started on February 13 as the business manager for Research & Woodruff Health Sciences IT (R-WIT). She manages all of the monthly billing for the Service Center.
Prior to Emory, she worked at the Georgia Tech admissions office. She also worked in admissions in Westminster Schools (www.westminster.net).
Originally from Spartanburg, SC, Susan is a graduate of Presbyterian College in Clinton, SC with a degree in Psychology. She also has a background in marketing and plans to help promote the work in R-WIT.
Susan loves to sing and is a fan of the arts. She is also an accomplished event planner. She is married and has a Corgi named Hunter.
You can reach Susan at susan.f.henschen@emory.edu.
---
Khalid Sharif, Technical Support Customer Specialist, Enterprise Services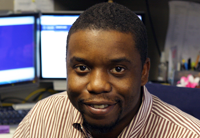 Khalid Sharif is all about getting the job done.
Kahlid recently promoted from being a temp agent to Technical Support Customer specialist at the Service Desk.
Prior to coming to Emory, he was a contractor for Cox communications, where he helped complete the Cox Windows 7 migration project.
Born and raised in Atlanta, Khalid received an Associates Degree in Computer Science from Georgia Perimeter College. He is also a Marine Corp veteran, serving from 1997 to 2001.
Khalid's hobbies include chess, soccer, traveling and playing with his new 5-month-old son.
You can reach Khalid at kshari4@emory.edu.