Reward and Recognition
Secrest Honored By MTSU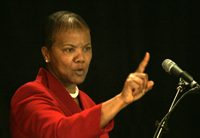 Mary Secrest telling students at MTSU about life and growth.
Mary Secrest (Manager of Training and Quality, Call Center) was honored as the keynote speaker for Middle Tennessee State University's "Pioneer Summit: Celebrating the Trailblazers." The summit, held on February 27 as part of Black History Month, featured a panel of MTSU luminaries discussing their struggles and triumphs during the Civil Rights Movement.
A tireless contributor to MTSU's alumni association, Mary has served three terms on the MTSU National Alumni Association Board of Directors and was instrumental in awarding scholarships to undergraduates. Known affectionately as "Beanie" by her classmates, Mary delivered an inspirational message of determination and self-reliance.
In 1970, while a student at MTSU, Mary broke the color barrier by becoming the first African-American to play on the school's Lady Raider basketball team. A four-year starter, she related how she would have to duck down in the bus on road trips through areas known for racial tension. Mary is currently a member of the school's Sports Hall of Fame.
Mary was also one of 10 African-Americans to integrate Franklin (TN) High School in 1965. In her speech, she challenged students to use history as inspiration to change the status quo in their own communities. "Go out and try to do something now!" said Mary. "Be something different than what you see every day."
The highlight of the night for Mary came when she was visited by six former recreation students from the Patterson Park housing projects in Murfreesboro. These women were just students when she met them but now they are successful ladies whose own children are in school at MTSU. "They never thought they would get out of the projects and then they found that education could give them a route to a better life," Mary said. "They just needed a little direction."
We congratulate Mary Secrest on this wonderful honor.
---
Derek Cox Gets PMP Certified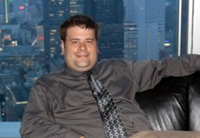 Derek Cox barely had time to relax while prepping for his PMP certification.
Derek Cox (Infrastructure) recently became an officially certified Project Management Professional (PMP).
Administered by the Project Management Institute (PMI), the PMP credential is the most important industry-recognized certification for project managers. Globally recognized and demanded, the PMP demonstrates that you have the experience, education and competency to successfully lead and direct projects.
To apply for the PMP, one needs to have either:
A four-year degree (bachelor's or the global equivalent) and at least three years of project management experience, with 4,500 hours leading and directing projects and 35 hours of project management education... OR... A secondary diploma (high school or the global equivalent) with at least five years of project management experience, with 7,500 hours leading and directing projects and 35 hours of project management education.
The nine-page application form requires the applicant to painstakingly document projects they have led including levels of management within each project. Once accepted, the candidate must pass a rigorous 4-hour test.
Please join us in congratulating Derek on this achievement.
- Marisa Benson, Director, PMO