Staff Bytes
OIT's St. Patrick's Day Parade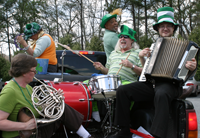 The Band! Pictured from left to right: Elizabeth Bell, Ann King, Winfred Sneed, Marv Peck, and Matt Steinberg.
On March 15, OIT employees in the 1762 Building held the First Annual St. Patrick's Day Parade. The parade route snaked around the building parking lot and featured live music, marchers, and various vehicles transporting the parade dignitaries.
Organized by Marv Peck and Ann King (both of Enterprise Services), the parade was the reincarnation of a regularly held Mardi Gras parade from a few years ago. "We thought it would be a great idea and Brett (Coryell) gave us the approval we needed!" said Peck.
The Grand Marshal of the parade was Jerry Mathis and he was escorted by Mary Kinney (both of Enterprise Services). The parade King and Queen were Alex Berry (Enterprise Services) and Christina Mazzella (IT F&A), respectively.
Emory employees in the 1762 building came outside on the beautiful day to wave at the parade participants, and were showered with candy. "We couldn't help but keep some of our past Mardi Gras themes," said King.
See a brief YouTube video of the parade and interviews with marchers.
---
Luc Has a New Baby!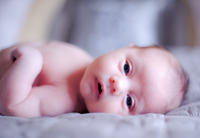 Baby Levi makes the paparazzi work for it!
Levi Dalla Venezia was born on the morning of February 25 at 1:45 a.m. He weighed 7 pounds, 14 ounces and measured 20 inches. This is the second baby in as many years for Luciano Dalla Venezia (Integration) and his wife, Kim.
---
Susan Greene's a Happy New Grandmother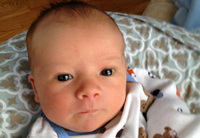 Baby Jacob is busy contemplating the universe.
Susan Greene (PMO) is a grandma! "Just call me Nana Susan!" says Susan. Baby Jacob was born on February 16th! "He is so sweet and beautiful!" exclaims Susan.
He weighed 7 pounds, 10 ounces and was 20 inches long! His Brent and Nicole Comer (Susan's daughter) and they live in Anniston, Alabama.
Susan has another grandchild due in August in New York by her daughter Caroline and Son-in-law Jeremy! Nanna Susan's gonna be busy!
---
OIT Bowls!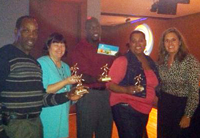 The winning team included (from left to right) James Alston, Kathy Moore, Ricky Ferguson, Pamela Johnson, Dana Haggas (not pictured: Kaven Moodley).
In gratitude for the completion of the St. Joseph's Hospital PS implementation, Emory Healthcare threw a bowling party for the project team at Wisteria Lanes.
Everyone was divided into teams and the winning team was OIT's very own UTS PS human resources team!
The project involved just under a year's worth of effort and over 100 employees.
---
Where's John Wang?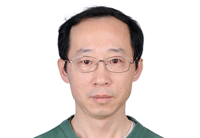 John's coming home! He can barely contain himself!
Great news for John Wang (Integration) this month: his work visa has been approved!
John and his family will take a Delta flight from Beijing, China on April 21 back to Atlanta. He will be back to work on April 24 after spending an entire year working for Emory remotely from China. The nice thing about the April 21 flight is that despite being overnight, it will land on April 21, so he gains a day back.
Before his visa interview, John filled out an online application form. He scheduled a US visa interview at the US Embassy in Beijing. John met with an immigration officer, who spoke Chinese with American accent, and who asked him several questions about his work at Emory in mixed Chinese and English. John had one of these embassy interviews before in Berlin, Germany when he first came to the US. On that day, he was prepared to speak English. But, the officer who met him only spoke German!
When asked what he would miss the most about China, John said, "My family, friends, and family-in-law." When asked what he had missed about the US, John said, "The blue sky, fresh and clean air, and quietness. I am looking forward to seeing my colleagues again."
"China is a giant construction site overall," said John. "The country is beginning another decade of change. Every family wants to own an apartment and a car. It sounds crazy that parking lots in some areas of the city we live in are more expensive than a new car. However, life in China gets better and better. This is an unprecedented era of prosperity."
---
Mr. Incredible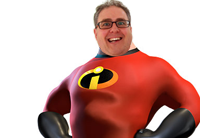 Is this correct business attire? Is it SFW?
My young daughter thinks I am Mr. Incredible!

Last week, she and I heard a cat crying in our neighborhood. Soon, we saw him in a pine tree a few yards away, on a limb, 40 feet up
.
A crowd was gathering 
because the cat (named Clover) had been in the tree for two days and nights
. My neighbors had procured a 20' extension ladder and a net on a long pole...but...no dice
. They just couldn't nab poor Clover.
While brainstorming with my neighbors, someone remembered seeing a clip on YouTube about a person using rope to raise a cat carrier up to the stuck cat. Seeing his safety cage, he got into it and was saved. I asked the owner, "Do you have a carrier?" Yes! While she retrieved her cat carrier, I hustled home to get 100-feet of nylon rope with a weight tied to the end which I'd used last summer to pull down dead limbs in my backyard
.
I heaved the weight towards the limb and on the FIRST TRY it crossed over right in front of the cat without touching him! 
I tied the open mouth of the carrier to the rope and pulled it up to the limb so that it resembled a bucket
. I carefully raised the carrier directly below Clover and he HOPPED RIGHT IN!
Here I am to save the daaaaayyyyyyyyy!
 "Officers. Ma'am. Squeaker."
After others had spent two days trying to coax the cat down, and Animal Control, the police, and the fire department had all refused to do it, we'd completed a miracle rescue!
Nothing says victory like rope, a hand weight, and YouTube.
- Wade "Parr", Volunteer Cat Rescue Guy, Integration
---
Shoeboxes of Hope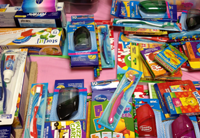 Some of the items that went into the Shoeboxes of Hope.
The OIT Call Center recently completed a community outreach project for the United Way called "Shoeboxes For Hope." As part of an ongoing effort to have a presence in the community in the name of Emory, this project demonstrates once again that a small group like OIT can do tremendous work for the community.
The United Way Spring Initiative is to gather shoeboxes full of necessary items to go to homeless women and children. Sometimes a woman and child must escape a bad home situation with nothing but the clothes on their backs. These mothers and children are in temporary homes. They have lost their personal possessions because of a fast escape and these shoeboxes help stem the confusion and grief. The shoeboxes are filled with necessary items that people often take for granted.
For the adults, the shoeboxes contain toiletries, wipes, antibiotic treatment, bandages, socks, toothbrushes, a washcloth, a hand towel, quart-sized storage bags (to collect the wet items in temporary housing), and rain ponchos (to keep them warm). It's sad but real.
The kids' boxes contain workbooks, socks, crayons, diaries, toys, books, card games, stickers. Just anything to get their minds off of the emotional events swirling around them.
The United Way collects these shoeboxes and gives them to the Red Cross, the police, various United Way locations, and Protective Services to be distributed in times of need.
The Call Center prides itself on exceeding expectations for their community outreach. They do at LEAST two community projects a year, one at Christmas and one in the Spring. No matter how small a contribution, every little bit makes a big difference. Smallest thing that you care about in your heart can be the largest. One thing we are known for is that we help our own and help others.
We had two bins for collecting the items over a two-week period. Our goal was 15 boxes and by the end of two weeks we had filled over 50 boxes. What is so magical about this effort is that starting from small things like grabbing an extra tube of toothpaste comes together into something of real value.
- Mary Secrest, Training Manager, Call Center