Meet New Employees
Haynes Chewning, Computer Support Specialist, Infrastructure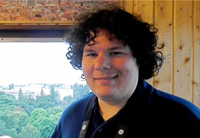 Haynes loved studying in Vienna.
Upon completing an internship in wireless support, Haynes was hired to work with the Networking and Architecture teams. While an intern, Haynes worked extensively on the ResNet project to upgrade the access points (APs) in the residence halls.
The son of Dawn Francis-Chewning (Academic Technology Services), Haynes received a degree in Economics from Emory during which time he spent a semester studying abroad in Vienna, Austria.
Haynes' real love and expertise is in technology. He enjoys building computers in his spare time and has been doing this since he was 11 years old. A graduate of Druid Hills High School, he is a welcome new member to OIT.
You can reach him at haynes.chewning@emory.edu.
---
Stephon Clayton, Communication Specialist, Enterprise Services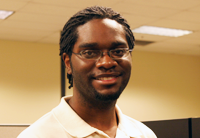 Have a broken iPhone? Call Stephon!
Stephon joined Enterprise Services to install and troubleshoot network and wireless requests. Before joining Field Services, he did the same work for Emory as a contractor since 2008. Stephon also performed network installations for Bright House Services in Tampa, FL.
A native of Long Island, NY, he's been in Georgia for about ten years. He is a graduate of the International Academy of Art and Design (IADT) in Tampa.
Stephon and his wife Shantell have two kids. He fixes iPads and iPhones as a hobby and also does computer repairs.
You can reach him at stephon.clayton@emory.edu.
---
Steve Collins, Enterprise Middleware Admin, Integration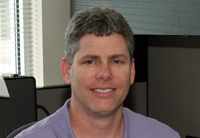 Bump...set...STEVE COLLINS!
Steve joined the Integration team as an enterprise middleware admin from the Woodruff Library, where he worked for three years as a senior systems engineer. Before coming to Emory, he worked for the State of Georgia as a systems engineer.
Steve is a UGA graduate with a degree in statistics. He is also an Atlanta native and a graduate of North Clayton High School.
He and his wife Angie have one daughter and Steve is a proud soccer dad, where he yells a lot. He is also an accomplished two-man sand volleyball player.
You can reach him at scolli9@emory.edu.
---
Eric Mangum, Operations Specialist, Enterprise Services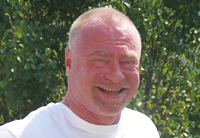 Eric Mangum, the traveling man.
Eric joined the Data Center as an operations specialist, where he works evenings between Wednesday and Saturday. Before coming to Emory, he owned a nation-wide printing business for 18 years that designed and printed forms for medical and dental offices, and newsletters and catalogs for many other industries. Eric also served in the military for 6 years.
Originally from Alto, GA, Eric loves yard-work, cooking, and travel. He has traveled all over the world, including Central America, South America, Germany, Switzerland, Spain, Italy, Croatia, Greece, the Czech Republic, Amsterdam, France, Australia and most of the Caribbean Islands. His favorite vacation spot is Costa Rica, which he describes as beautiful and relaxing.
Eric is a member of the board of trustees for Maceo's Kids, which provides mentoring for underprivileged youths between the ages of 17-25. Their goal is to give these future CEOs a new direction in life. For more information go to http://maceoskids.org/.
You can reach Eric at eric.j.mangum@emory.edu.
---
Tanjalon Solomon, Business Analyst III, Enterprise Applications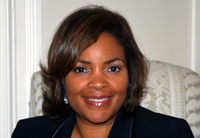 Tanjalon is a horse whisperer.
Tanjalon is working in PeopleSoft HR as a business analyst. She will be working as a liaison between the EA team and the customers and will be doing documentation and process improvements for the PSHR technical team. Before coming to Emory, she was a PS consultant and had her own company.
A native of Sylvania, GA, Tanjalon has a degree in Mathematics and Economics from Agnes Scott and an IT degree from Southern Tech.
Tanjalon plays tennis, cares for horses, and loves to farm vegetables. She is getting married to the love of her life on May 26. Congrats in advance!
You can reach her at tanjalon.solomon@emory.edu.