Meet New Employees
Lisa Cogdill, Data Analyst, R-WIT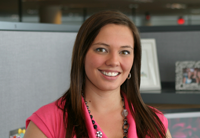 Lisa Cogdill loves the outdoors.
Lisa works in Research and Woodruff Health Sciences IT (R-WIT) as a data analyst, where she reports on research data for various projects. Prior to Emory, Lisa worked at University Hospitals in Cleveland, OH as a Business Coordinator, which involved tracking the program statistics and operational expenses.
A graduate in Health Service Administration from Ohio University, Lisa plans to pursue an MBA.
She recently moved from Lorain, OH (near Cleveland) to be closer to her family. Lisa loves skydiving, white water rafting, hiking, and soaking in the sun. She has a collie/spaniel mix named Chase, which she says is an appropriate description of him.
You can reach Lisa at lisa.cogdill@emory.edu.
---
Craig Cooper, Engineer I, Enterprise Services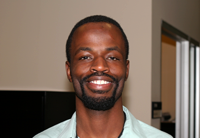 Craig Cooper is already several moves ahead.
Craig joins the Technical Operations Center (TOC) after performing network support for a company called LodgeNet. Before that he worked in computer operations at NCO Financial Group.
Craig was born in Jacksonville, FL but grew up in Conyers, GA. He attended Gordon College in Barnesville, GA.
Married with three kids, Craig considers himself a formidable "Starbucks Chess Player" and is often looking for a game.
You can reach Craig at craig.cooper@emory.edu.
---
Chris Gonzalez, Communication Specialist, Enterprise Services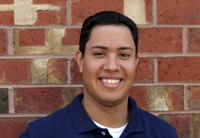 Chris Gonzalez is here to help you.
Chris comes to Enterprise Services after working for a few years at Emory as a contract technician. He will be working as a communication specialist. Chris majored in Business at Georgia Perimeter College.
A native of Doraville, GA, Chris has a lot of family in the area.
His interests are the Braves and the Hawks (which means he suffers regularly) and also avidly exercises.
You can reach Chris at christian.gonzalez@emory.edu.
---
Jesse Sehorn, Communication Specialist, Enterprise Services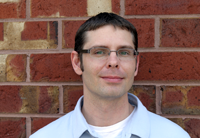 Jesse Sehorn knows that exercise strengthens the mind.
Jesse is working as a Communication Specialist in Field Services after five years in the same position with Charter Communications.
A graduate of Pope High School in East Cobb, GA, Jesse was born in Gary, IN, but moved to GA as a boy.
Jesse has a wife and two athletic boys that keep him extremely busy with soccer, track, basketball, football, and baseball. A sports enthusiast himself, Jesse particularly loves the Falcons and the Notre Dame Fighting Irish.
He can be reached at jesse.l.sehorn@emory.edu.
---
Jonathan Stegall, Web Developer, R-WIT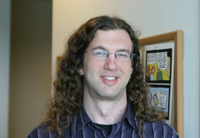 Coffee is a great way to start the day, says Jonathan Stegall.
The newest web developer on the Research and Woodruff Health Sciences IT (R-WIT) team, Jonathan brings several years of web design and development experience. Before Emory, he worked on the website for AirWatch, a mobile device management company in Atlanta, and before that he worked at CareerBuilder.
Jonathan has a degree in Interactive Media from the International Academy of Design & Technology in Tampa, as well as a degree in church ministries from Southeastern University in Lakeland, FL. His hometown is Salisbury, NC.
Married to an Emory alum, Jonathan is the proud father of a one-year-old. He loves the web, going to underground shows and festivals, and has a strong appreciation for good coffee, beer, and books.
You can reach Jonathan at jonathan.stegall@emory.edu.