Staff Bytes
Maddlone's Memorial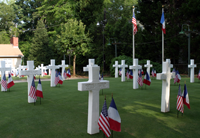 The view in David Maddlone's front yard is symbolic of the sacrifices we should all appreciate.
In Flanders fields the poppies blow
Between the crosses, row on row,
That mark our place; and in the sky
The larks, still bravely singing, fly
Scarce heard amid the guns below.
We are the Dead.
Short days ago
We lived, felt dawn, saw sunset glow,
Loved and were loved, and now we lie,
In Flanders fields. - In Flanders Fields, by John McRae, a WWI veteran.
While In Flanders Fields is a masterful poem, written in 1915 describing a WWI cemetery, similar feelings are evoked every year when David Maddlone (Enterprise Applications) transforms his front lawn into one of the most moving World War II memorials to the D-Day (June 6, 1944) landings, that you will ever see in Georgia. That is because he painstakingly recreates an exact replica of a portion of the American Cemetery in Normandy.
David saw the movie Saving Private Ryan and it changed his life. Growing up, he had heard the war stories of veterans but to actually see what many believe was the most life-like depiction of the event moved him to action.
"I cannot imagine what it took inside to keep moving forward amidst the explosions, carnage, and the stench of death. It was incredible bravery and something to be proud of as a nation."
The resulting impulse was to create a D-Day memorial. After nearly a year-and-a-half of research, David decided to recreate a small section of the American Cemetery in his front yard so that veterans and civilians alike could experience this quiet reverence of that resting place here in America.
With meticulous detail, 42 exact replicas of the Normandy gravestones line up perfectly across his expertly manicured lawn. Each stone contains the actual names and serial numbers of the real soldiers in one portion of the graveyard. Were you to fly to France, you could see the exact layout that David has recreated. His neighbors happily assist him in his task.
The first time David erected the memorial was in 2004 and this year marked the ninth time he has honored our fallen soldiers in this way. Visitors can leave their impressions in a guest book while listening to the original radio broadcasts of D-Day over authentic 1940's era loudspeakers in the yard. The Memorial is up for approximately three weeks.
David's grandfather Salvatore was a first generation Italian who came to the US, learned English and became a proud American. He joined the Merchant Marine and carried a license that allowed him to take any sized ship into any port on the East Coast.
While taking David's photo, he was careful to make sure that none of the gravestones were in the background. "This is not about me...it's about them."
"Each year, there is less and less said about the sacrifice that these men made," said David. "We used to pause in school on June 6 and remember that 10,000 men died that day. It was the price of throwing off tyranny and we too easily forget about it."
For more information, you can check out David's website at http://www.dday0606.org/, including a CNN video of his memorial.
---
History of Computing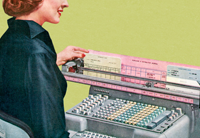 How many of you ever used one of these?
Brett Coryell (OIT) sent this out earlier this year but wanted to save it in our newsletter. "Some of us have seen quite a bit of the history of computing but the slideshow had interesting info that I had never heard before. It is worth 20 minutes to read through and learn this little corner of the amazing history of our chosen profession," said Brett.
http://www.extremetech.com/computing/90156-the-history-of-computer-storage-slideshow
---
Goodnight, iPad!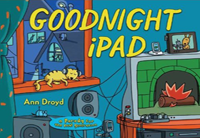 Goodnight iPad: a Parody for the next generation.
Goodnight iPad: a Parody for the next generation, by Ann Droyd, is a wonderful children's book that warns us about the dangers of becoming too attached to our electronic devices. The book provides a funny, yet telling lesson that is useful with this month's cover story about the Alienating Potential of Technology.
You can see a dramatic reading of Goodnight iPad below:
Also for another laugh about iPads...http://www.wimp.com/dadipad/
---
Bridges Baby!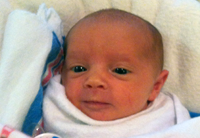 We've seen that expression on Danny Bridges' face at work!
Danny Bridges (Enterprise Applications) and his wife recently had a baby and Baby Grace is doing well! The first two weeks were rough for her and her mom, but she is doing much better now. She was born on June 7, 5 weeks early, at 5 pounds, 12 ounces and 17.5 in long. Her full name is Elizabeth Grace Bridges.
---
NDB Enjoys Early Summer Cookout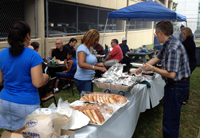 Enjoying the outdoors at the NDB Cookout.
OIT staffers in the North Decatur Building enjoyed a quiet afternoon cookout one day last month. Organized by the folks in 3rd Floor NDB, they enjoyed hamburgers, hotdogs, bratwurst, baked beans from Community BBQ, homemade chili (brought by Infrastructure's David Hauenstein), salads, chips, pickles, sweet tea, and key lime pie.
The grill masters were David Hauenstein, Kevin Kirwan, and Mike Lewis (all of Infrastructure).
"These types of events allow us to relax from the stress of work and help us get to know each other better," said a wonderful and efficient IT F&A employee who wished to remain anonymous. But we all know who she is!
---
Amy Dean Works Closely With Local Security Chapter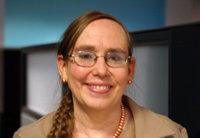 Amy Dean is proud of her security accomplishments!
Amy Dean (Enterprise Applications) works extensively with a local security chapter that recently received recognition.
Amy had an interest in information security and learning more about the practices, and she learned about the Metro Atlanta ISSA at an Oracle users conference in September, 2007.
"The Metro Atlanta Information Systems Security Association is a non-profit group dedicated to providing educational and networking opportunities. They promote the exchange of ideas and knowledge for each member's growth within the information security profession," said Amy.
ISSA hosts monthly meetings that revolve around networking and education. ISSA also runs an annual security conference every year. In 2010, the Atlanta chapter co-hosted the first international ISSA conference and Amy worked as a room monitor. In 2011, Amy was offered the position of Director of Student Affairs for the board. She helped run the 2011 conference and assisted in the development of a student chapter at Kennesaw State.
Every year this chapter holds a workshop (twice a week for 10-14 weeks) that is a full review of the domains for the CISSP exam, which is becoming the security industry standard. Brad Sanford, Amy Dean and Jay Flanagan carry this certification. The participants in this workshop have a high rate of passage of the exam.
For helping the International group run the first conference in 2011 they were designated the ISSA chapter of the year internationally. The chapter has around 350 members.
Amy is the liaison between the various student chapters and the parent chapter, helping them answer questions about the organization as a whole, helping the get the student chapters started and participating on the board to help with the weekly chapter task, specifically focused on conferences.
Brad was the 2011 ISE North America Healthcare Executive Award Winner.
Related info:
ISE (Information Security Executive) Southeast Executive Forum and Awards 2012
Brad Sanford was ISE North America Healthcare Executive Award Winner 2011
---
John Wilson's Daughter Makes Junior Olympic Team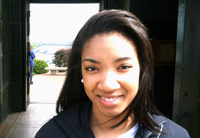 Sydney is a budding volleyball star!
My daughter Sydney achieved a major volleyball milestone recently by being invited to the second tier of national programming for the USA Indoor High Performance Women's Junior age group. This means that out of 22 players selected through national try-outs, there will be a final competition to make the Junior Olympic team. Here is the official explanation of the USAV pipeline process.
This is a significant accomplishment in the Junior Volleyball world. Sydney is 16-years old, and one of only four sophomores who made the team. Sydney is young for this level of competition, so getting this far is a major accomplishment.
Sydney will compete in Des Moines, IA during the week of July 19-29 at the Junior National Championships, after which she will find out if she has made the National Team. Good luck, Sydney!
- John Wilson, Manager, Enterprise Applications
---
Lindsay Paroczai at the USA National Volleyball Championships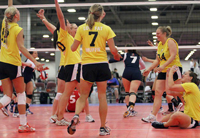 The Muffin Tops (left to right): Corn Muffin, Chocolate Chip Muffin (Lindsay, with arms raised), Banana Nut Muffin, Low-Fat Muffin, Pumpkin Spice Muffin, and Stud Muffin.
Every year USA Volleyball holds adult nationals in a different city. It's all 6-man, played at an indoor facility. This year it was in Salt Lake City. There are all kinds of divisions, ranging from Pro to 40+ to 79+ to sitting to Special Olympics. Our women's team is called Muffin Tops, and I've been playing with them for a year now.
Each team member has a muffin-style nickname that's on the back of their jersey. I'm Chocolate Chip Muffin, and we have Low Fat Muffin, Pumpkin Spice Muffin, Banana Nut Muffin, Stud Muffin, Mini Muffin and Corn Muffin. Our women's team got second place in the BB division. With the way the brackets worked, since we lost the first match of the last day, we had to play through the loser's bracket to get into the finals. That day we played 7 matches (2 games to 25 and a tiebreaker to 15), five of which went to three games, so by the final game we were exhausted!
After that format was over, we had a few days off and then played the reverse coed format. We have three guys and three girls playing, but the guys are not allowed to swing at all; they can only play defense, which means there is a lot of pressure on the three girls since they're the only offense. Our team was called Muffins n Men, and we won! Yahoo!
Here's the Facebook link. We had some fans taking pictures and giving live updates, so that's a great place to read more!
And here's an article on Muffin Tops from last year (I wasn't playing with them then but there's a lot of good info!).
I've been playing since I was in 5th grade, but up to a few years ago I stuck to indoor. Now I play a lot of grass and sand doubles as well. The Atlanta volleyball community is wonderful and I'm able to train and play every day of the week if I so choose. I just played a coed doubles tournament this weekend and won again! More info about that event can be found here.
- Lindsay Paroczai, Web Developer, R-WIT