Staff Bytes
Pamela Johnson Cast in a Play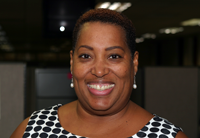 Pamela Johnson is a thespian at heart!
Some of you know that I've been cast in a play at The Company Acting Studio where I'm taking classes. Others are hearing about this for the first time. Just passing on the information if you are interested in coming or would like to tell others.
Please note that the studio theatre is located up a flight of stairs and the play is not appropriate for children. The studio theatre has general seating and seats approximately 72 people.
I have acted my entire life but took a 16-year hiatus to focus more on my career. In February 2012, a friend invited me to attend a play at The Company Acting Studio (TCAS) located in Amsterdam Walk near Piedmont Park. I was so impressed with the performance and surprised to learn that TCAS is an acting school located in my area that's been around since 1996.
When I joined Emory last year and no longer had to travel for work, I decided it was time to return to my first love. The next week I auditioned for placement at TCAS and started classes in March. I auditioned for their performing company in April and for their production of Intimate Apparel in June. I was so excited to learn that I had been cast in the role of Mrs. Dickson.
The following is an excerpt from a review of the play performed in 2004 when it starred Viola Davis. To read the complete review, go here.
"Lynn Nottage's beautiful play, Intimate Apparel, is the type of play that is, sadly, too rarely seen. With an intelligent script that doesn't pander to stereotypes and trusts its subtext as well as its text, Intimate Apparel is an engaging and moving work that involves its audience from the moment it begins.
The story surrounds Esther, a thirty-five-year-old unmarried African-American woman living at the turn of the twentieth century. Esther makes her living as a seamstress, selling intimate apparel to women from, all walks of life. In the same way people traditionally open up to bartenders, Esther's clients reveal their troubles to her. there's something about helping someone adjust their new corset that breaks down traditional barriers of propriety, and Esther ends up privy to all sorts of secrets she wouldn't otherwise be told."
The show will run on the weekends from August 10-26. You can get ticket information here. I hope to see you there!
- Pamela G. Johnson, PeopleSoft HR, Enterprise Applications
---
Sandra Butler's Daughter Honored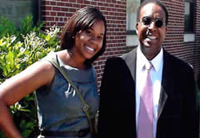 Kelsey Butler and Dr. Delindus Brown at SC State University.
My daughter Kelsey, a volleyball player who now coaches and plays in an adult league, has turned her sights on the impact of poverty on education and her role in making a difference. We are now having some really thought-provoking conversations and making plans for future projects together. I'm really excited about her upcoming presentation!
http://www.scsu.edu/news_article.aspx?news_id=1445
- Sandra Butler, Blackboard Architect, Enterprise Applications
---
Barwick Gets Family Addition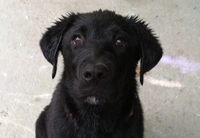 Jet loves water...and eating, apparently.
I have a new Family member! My family adopted "Jet" a black Lab from Coordinator, Tillie Loza (Enterprise Services) on June 20. Jet loves his new family just as much as his new family loves him. Jet was 34 pounds when we got him last month. On Jet's second Veterinarian visit he was already 57 pounds!
We have a small pond in the backyard that we cannot keep Jet out of when he is outside. He loves the water and we are excited to get Jet to the lake with our other dog (Mack / Cocker Spaniel) to see how he takes to the big water. Jet is a joy for us and we love him.
Thank you Tillie! Added Tillie, "I still think he is a piggy disguised as a puppy…almost 20 pounds in one month!"
- Tommy Barwick, Supervisor, Enterprise Services
---
Dorothy Braithwait Returns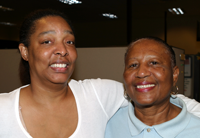 Debbie welcomes back Dorothy with a hug!
Dorothy Braithwait, a custodian who takes care of the 1762 Building and who is beloved by many staffers in OIT, returned to work recently after an extended absence due to an accident that broke both of her arms. A native of Guyana and an Emory employee for over six years, Dorothy fell down a flight of stairs the day after the 2012 Super Bowl.
During her absence, Debbie Gray (IT F&A) and Felecia Chaney (Enterprise Services) coordinated a financial donation and flowers from OIT to help Dorothy get through the very difficult time. For five months, it took several different custodial workers to attempt to cover Dorothy's work, but OITers in 1762 agreed that no one gave the meticulous attention to detail like Dorothy does. We are glad to have her back!
---
Teresa Fleetwood Accepts the Challenge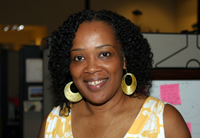 Teresa Fleetwood promotes a healthier YOU.
Teresa Fleetwood (IT F&A) has made a reputation for herself as a workout warrior by recently completing a 6-week workout challenge at the Emory Blomeyer Health Fitness Center in an amazing nine days. She completed the challenge ahead of all other participants, male and female.
The challenge involved rowing for twenty miles, biking for one-hundred miles, and running for fifty miles. Not only did Teresa win this challenge, but she has won numerous challenges in the past, involving strength training and endurance.
As a result, Teresa was named Blomeyer Member of the Month for June, 2012. You can read about her honor here.
Teresa encourages many of her Emory coworkers to join her in the challenges and leads her coworkers by example.