Cover Story
iOS Conquers Emory: BTS 2012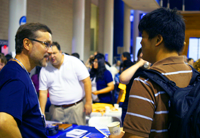 Rich Mendola (CIO, OIT) speaks with a student during BTS.
Freshmen Arrival Weekend (FAW) was August 25 and 26 and we have a great incoming class! The recent trend of an expanding Emory student population continued as this is the largest class to date, currently numbering 1389. Oxford continuees are around 450 and transfers number about 150.
The Back-To-School (BTS) Team was ready with "wireless only" in the Residence Halls, Emory On-Line 2012, a new wireless SSID DOOLEYNET for gaming and devices that cannot use WPA2, the new anti-virus software of McAfee, the new Mac OS 10.8, and, for ALL undergraduate students, a new Office 365 email account. LearnLink will continue to be used in a conference capacity but Internet mail is now in the Cloud.
Our Tech Training highlighted all the ways students connect and we saw some amazing numbers this year:
BTS Facts for 2012
BTS Staff included our students in Student Technology Support (STS) and the Cox Hall Computing Center, OIT, Emory College IT, Library IT, Goizueta Business School IT and Department of Sociology IT.
MMD - while Multiple Mobile Devices is not new...in that students typically had a cell phone and a laptop...it has taken on new meaning with the proliferation of iPads, Kindles, Nooks and more.
Maximum number of mobile devices for one user to date: 6
Average number of mobile devices per user: Between 2 and 3
Number of iPhones on NetReg: 1873
A quick note of thank you to all who supported the success of this past weekend, both in person and through the able support of your teams. By the end of the weekend, there were only 40 students in the incoming freshman class that weren't on the network out of 1371 that were expected.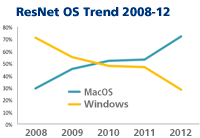 Just as impressive, there were only about 880 out of 2300 in the upper classes that had yet to register, even though classes started on Wednesday. Last count featured 2489 Macs and 1607 Windows PC's. 1350 iPhones and 387 iPads were registered. 396 Android devices were registered. Windows 7 is the defacto student Windows desktop. Lion is the defacto student Mac desktop.
Over 6300 devices were brought onto the network over the weekend. On average, every student has more than one IP device, some as many as six.
We had over 80% of undergraduates logged into Office 365 and checking email, as every interaction during BTS was aimed to guarantee connectivity to EmoryUnplugged and Office 365.
Overall, the two projects came nicely to conclusion.
- Alan Cattier, Director, and Dawn Francis-Chewning, Business Analyst, Academic Technology Services