Cover Story
Relive the FY13 Annual Kickoff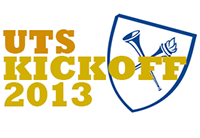 As we start 2013, now is an excellent time to watch the video from this year's Annual Kickoff. Brett Coryell (UTS) did a masterful job of laying out his vision for FY13 and beyond. Although the Kickoff was held last quarter, many of us were too distracted by year-end, back-to-school, and the holidays to really absorb Brett's message.
Therefore we proudly present this rebroadcast of the UTS Kickoff FY13. In an effort to expand our ability to present information, we recorded and produced the session in-house, rather than contracting a third party to do it for us. Post-production took some extra time as the event featured four simultaneous data sources. We are especially thankful for the video assistance from Steve Bransford, Jim Kruse, Shannon O'Daniel (all of Academic Technology Services) and all of the staff who made the Kickoff a success!
NOTE: Android users can access the video here.