Reward and Recognition
New ITIL Experts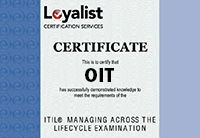 The ITIL Managing Across the Lifecycle certification is extremely difficult to attain.
Congratulations to our new ITIL Experts! After at least 17 credits earned for Foundations and Intermediate classes, these folks endured a grueling Managing Across the Lifecycle course together in November -- and passed the exam! Click here for more information on what's required.
Besides myself, the other ITIL experts are: Marisa Benson (PMO), Enid Britton (Integration), Derek Cox (Infrastructure), Scott Davis (Infrastructure), Kathy Hayes (Academic Technology Services), Missie Martin (Integration), Bill Szabrak (R-WIT).
- John Ellis, Director, Integration
---
Service Desk Kudos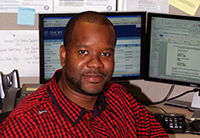 Athan is a hard worker in the Service Desk!
I called the UTS help desk and spoke with Athan Gillette (Enterprise Services). He was very polite and helpful. My request was two-fold: I need a pager reassigned to a new employee and then I need to add the employee's cell phone number so that she can be contacted by eNotify during specific emergencies. Instead of just taking my request and opening a ticket, he was very eager to resolve my problems. I appreciated his drive and dedication to resolving my issues.
Thank you, Athan!
- Leslie Stigaard, Decision Support, Department of Cardiology, Emory Healthcare