Staff Bytes
The Year in Photos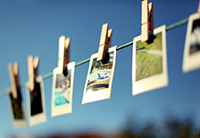 We have enough pictures to fill several clotheslines!
2012 was a busy year for OIT and we shot hundreds of photographs during that time.
The video below is a collection of many of the best shots from the year. Please enjoy them and relive the best moments of the past year with your colleagues in OIT.
This photo collection is mostly head shots of various OIT members...some you will know, others you might not know!
---
The Hero's Journey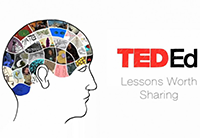 You can subscribe for daily TEDEd lessons at: http://www.youtube.com/user/tededucation.
During Brett Coryell's (UTS) Kickoff speech, he referenced the Hero's Journey as a metaphor for the lifecycle of challenge that an organization faces. Recently, TED Education produced the video below that helps explain the Hero's Journey.
Matthew Winkler, educational technology and English teacher at South Kent, a college prep school in South Kent, CT, is a frequently-published author in the TED-Ed series.
---
No Buts About It!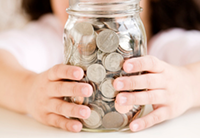 "We make a living by what we get but, we make a life by what we give." - Winston Churchill
Change is good. As most would agree the constant usage of the word "but" during conversations can sometimes be a red flag and indicate to the other person that you disagree with them. Back in April, the Technical Operations Center (TOC) accepted the challenge to limit the use of the word "but" and utilize more socially-friendly conjunctions during exchanges. To further reinforce this concept, members of the TOC voted to donate five-cents to a collection jar every time the word "but" was uttered. Team members then decided all monies collected will go to a local charity during the holiday season.
So how did we do? Although forming new habits can be tough, overall we met the challenge and helped raise awareness within the team. Long after the experiment ended the team kept placing loose change into the collection jar. We raised $112 and donated the money to a young mother who was recently diagnosed with diabetic retinopathy. Her situation came to us through a personal referral.
Not only did our efforts improve communication at the TOC, but they helped make a difference in the life of a family. We plan to make this an annual tradition here in the TOC.
- Rosa Weston, Manager, Technical Operations Center
---
R-WIT Book Club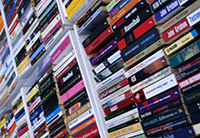 Do people still read books made of paper?
R-WIT has been doing a book/reading club. The most recent gathering was a healthy potluck where we chatted about several articles regarding the importance of healthy exercise and eating habits with regard to stress management and work performance (as well as general overall health and life balance).
Several members of the division have gone vegetarian or vegan in the last year, and frequently share ideas about healthy eating.
If you would like more information about the club or would like to join in the fun, please contact me at rachelle.a.willoughby@emory.edu.
- Rachelle Willoughby, Manager, R-WIT
---
R-WIT Fitness Roundup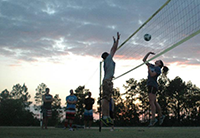 Lindsay "networking" as the sun sets!
Several R-WIT members are engaged in a variety of healthy activities. Several members of the R-WIT staff ran the Thanksgiving Half Marathon this year, and a group will be doing the Hot Chocolate 5k/15k in January together. Kari Meyer (R-WIT) recorded a good time for the half marathon and also leads a fitness boot camp. Lindsay Paroczai (R-WIT) has been competing in volleyball tournaments throughout the summer and fall.
According to Kari, "My boot camp meets every Tuesday and Thursday at 5:30 a.m. at Mason Mill Park. At one time, I was an instructor every day, but now we 'share the love' and every participant leads from time to time. This is an informal, no cost workout group. Most of us used to participate in a bootcamp that we paid for, but that camp closed. We all decided to keep working out together because we have so much fun together. It is open to everybody and all fitness levels - honestly the more the merrier! We do a variety of activities from running, jumping, pushups, sit–ups, etc. It lasts for 45 minutes each day.
Says Lindsay, "Since the last article I switched gears from indoor to outdoor. I played pretty much every weekend in the summer, either in the sand or grass. I mostly played coed doubles (on a men's height net) and my awesome partner Brian and I had much success this summer! There are a lot of huge annual tournaments that we travel for in the summer in Florida, North Carolina, and South Carolina, as well as here in Atlanta."
---
Photo of the Month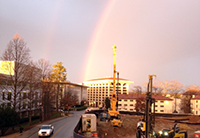 A double rainbow over Emory's campus.
The Photo of the Month was submitted by David Topper (Infrastructure) of this incredible double-rainbow he shot on campus.
If you want to enter a photo for next month's Photo of the Month, please send your submission to wade.moricle@emory.edu by January 21.