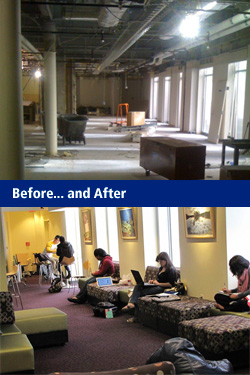 April 3, 2010
Spring started off hoppin' in the newly expanded Computing Center at Cox Hall. An additional 4,000 square feet were added to the Center over the Winter Break in an amazing renovation of what had been the Student Counseling Center at the back of the building. This expansion included room for an additional classroom, more collaborative work and study space, and a new home for the Clean Room inside the Computing Center.
It truly was an incredible project, completed in under eight weeks with no interruption to students during Fall exams or at the start of Spring classes.
Students are continually telling us they love the space and our stats show its popularity. We've seen a 15% increase in students coming into Cox over the same time last year, a 46% increase compared to Spring '08 (A total of 67,124 entrances since the first day of classes).
And the Clean Room has never been busier. Close to 1,200 students have come in for help since the start of the semester. That is almost as many students in the Clean Room during the first three months of this year as there were in the first three months of 2007, 2008, and 2009 combined!
On top of the physical expansion to the space, we converted the computers in the Computing Center to dual-boot iMacs and Macbooks, completely changing our technical infrastructure to give students more flexibility when working in Cox. They can now sit at any computer and choose Mac or Windows. Their choice. A huge accomplishment for us technically, and something that students seem to really enjoy (login stats for the curious: 56% Windows to 44% Mac).
A personal thank you to my Student Services team for working through the chaos and constant change to make this one of the most successful and well-launched semesters we've ever seen.
You really are the best!
- Kim Braxton, Manager UTS Student Services