April 3, 2013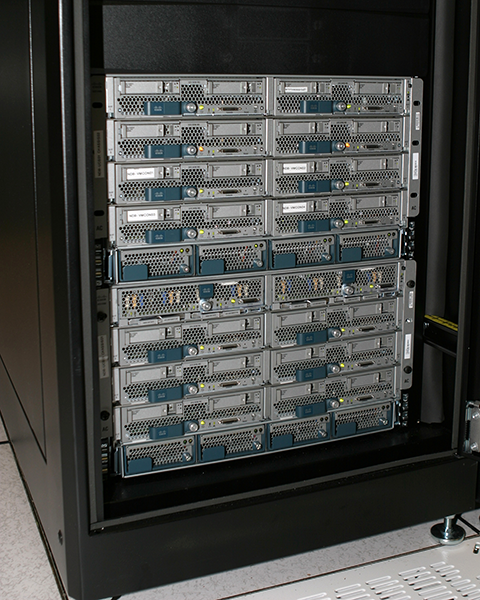 With an eye toward the overall Virtualization Environment, the Systems Engineering team has dramatically transformed the server architecture in the Data Center to match the current and future needs of the environment.
The team had been running HP c-Class blades for 5-6 years so it was time to examine the best fit for the organization. In researching multiple vendors, the team found that Cisco UCS blades integrated well with our current Cisco Switch network. They also had a consolidated switch footprint that supports the blades more efficiently. The old infrastructure relied too heavily on four-to-six switches in each blade enclosure, which made switch support and maintenance more difficult.
Manageability is a huge plus for us as we now have one central location to manage the hardware platform (as opposed to the previous architecture which involved 30 separate enclosures). We also can take advantage of ten-gigabit networking. Before we had multiple 1-gigbit links that were bonded together.
Derek Cox (Infrastructure), who is the primary person for hardware on the team, was tasked with performing a full technical comparison between HP and Cisco blades. Derek brought in each vendor's current solution to compare all of the pros and cons and Cisco won the bid. Since the transition, the vendor support with Cisco has been outstanding.
After the selection, our first purchase was geared toward upgrading our current virtualization hardware. Mike Lewis (Infrastructure), who is the primary VMWare architect, has successfully migrated over 500 active VMs in the North Decatur Data Center to the new hardware platform with no downtime. New hardware has been purchased for the same upgrade at our Whitestreet location.
I am very proud of the team for taking on this significant project. We are already seeing the benefits of our decision in terms of manageability from a central location and by consolidating the blade footprint, going to a more dense configuration, we have greatly improved our ability to expand the environment.
- Steve Siegelman, Manager, Infrastructure
---
For additional information on this or any other Emory OIT service, please contact the
University Service Desk at 404-727-7777, Monday - Friday 7 am - 6 pm.
---