LITS Annual Report: Clinical/Service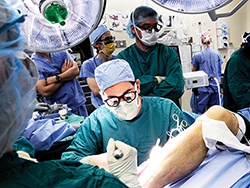 In the clinical enterprise, FY14-15 saw the implementation of enhanced toolsets to better support physicians, patients, and staff, as well as the rollout of new infrastructure and applications that make life in Emory Healthcare easier.
Clinical Workflow Optimization
Emory Healthcare built or redesigned 37 specialty workflows in order to improve its EHR installation and enable providers to leverage health IT as a way to better take care of patients. As a result, the project cut the number of clicks physicians had to go through in the EHR by a third.
In redesigning and optimizing EHR workflow, the team looked at four aspects of the system: chart review, documentation, diagnosis and medication reconciliation, and orders and billing.
Eight weeks into the effort, 71 percent of physicians at Emory clinics had moved to the new documentation system, computerized order entry increased by 74 percent and the need for transcription fell by 29 percent. Future plans include improving patient handoffs and expanding electronic billing on the inpatient side.
ICD10 Survival
ICD10 is the 10th revision of the International Statistical Classification of Diseases and Related Health Problems (ICD), a medical classification list by the World Health Organization. Thanks to the hard work of so many people ICD10 went live on Oct 1, 2015 with little fanfare and minimal issues. ICD10 allows for over 68,000 codes and continues today with little detrimental impact.
DLE and Office 365 Rollout
DLE, also known as Desktop Like Experience, gives the user the experience of a typical Windows desktop. No longer will users see a menu of applications to choose from; DLE is a virtual desktop that creates the look and feel of a Windows desktop. DLE and Office 365 are on target to roll out the first of calendar year 2016 and will move from on-premise Exchange to Office 365. This implementation will be the stepping stone to a virtual multimedia experience.
Emergency Codes App
As part of a new strategy of developing apps to support quality initiatives, EHC-IS is concluding the development of Codes, an emergency code app that provides a uniform list for reporting cardiac, neonatal, and other life-threatening events. In the past, we lacked the ability to track and analyze app usage effectively, but the new mobile app catalog now allows EHC-IS to collect analytics to monitor and track usage. This enhanced feature will allow improved information sharing and communication.
<< Research | Foundational >>