LITS Annual Report: Education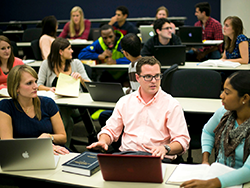 Support of Emory's academic mission is one of the guiding principles of LITS. To that end, FY14-15 saw the completion of several projects that featured strong collaboration with staff.
Public Scholarship
The Emory Center for Digital Scholarship (ECDS) launched a redesigned Drupal 7.0 site for the peer-reviewed, open-access journal Southern Spaces, continuing to support innovative digital publishing.
ECDS also partnered with faculty to launch eight web sites highlighting research and public scholarship (three digital scholarly journals, two research and pedagogy sites, and three research sites). Emory faculty were recognized nationally and internationally by scholars for their work on a select number of these sites.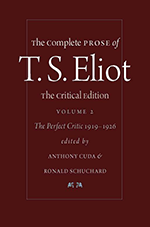 Another ECDS project, "The Complete Prose of T. S. Eliot, Volume II: The Perfect Critic, 1919-1926" has received the national book prize for Edition, Anthology or Essay Collection at the Modernist Studies Association conference. Praised as a "monumental work of scholarly editing," the volume is part of an ongoing project led by general editor Ronald Schuchard (Emory professor emeritus). In 2006, the Beck Center for Electronic Collections (now part of ECDS) began digitizing over 1,500 documents in an endeavor to collect all of Eliot's extant prose including essays, reviews, lectures and commentaries. The scanned texts were processed with optical character recognition and their critically edited versions continue to be encoded with TEI markup to make the collection fully indexed and searchable.
Rose Library Renovation

Most notably for the newly dedicated Stuart A. Rose Manuscript, Archives, and Rare Books Library (formerly MARBL), August of this year marked the completion of the renovation of public spaces located on level 10 of the Robert W. Woodruff Library. This project was a massive undertaking resulting in beautifully enhanced spaces for teaching and research as well as an interactive exhibit corridor for interpretive programing drawn from materials found in the Rose Library's collections.
Special recognition should go out to the Rose Library's staff who, due to conditions related to the renovation, were required to relocate to other areas of the Woodruff Library from both the 9th and 10th floors. Though dispersed throughout the Library they were still able to continue acquisitions and stewardship of collections and provide services ensuring access to the collections for the campus community and other researchers. The completed renovation of level 10 created over 4300 square feet of extra space gained from the strategic removal of the surrounding balcony in some areas. The year-long renovation process produced stunning results.
Enhancing Services to the Faculty
One of the programmatic themes for the coming year is collaboration and engagement. Building our services in this area will include partnering with faculty to increase our involvement in the full lifecycle of research, pedagogy, and learning. The Libraries currently offer a broad range of expertise in building information competencies, rights management, open access, research data management, collection development, and instructional technology to name just a few. To develop a service strategy going forward, in FY2015 we convened a Faculty Services Working Group charged to inventory, review, and assess current faculty services across all areas and develop recommendations to enhance these services for the campus community.
The broad range of participants include the Goizueta Business Library, Woodruff Health Sciences Center Library, Oxford, MARBL, Emory Center for Digital Scholarship, Services, Academic Technology Services, and Scholarly Communication. The final draft is currently under review by the group with plans for presentation to Library Cabinet early this fall. In the coming year we will determine plans for implementation.
<< Library & Information Technology Services | Research >>