LITS Annual Report: Innovation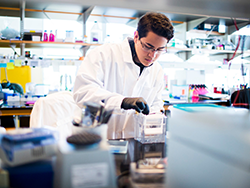 Innovation was a major element of LITS' success in FY16, with several projects demonstrating a willingness to look beyond the norm. Each of these projects incorporated intense research throughout as well as managed implementation.
ATLMaps Project
ATLMaps is a collaborative project between Emory and Georgia State University. The platform provides access to collections of maps and data about Atlanta from multiple institutions. Users can explore Atlanta's history and development by examining historical maps and data sets overlaid on a modern map of the city. The project received a $35,000 grant from the John S. and James L. Knight Foundation's Knight News Challenge this year.
While currently focused on one city to demonstrate the power of stacking thousands of layers of information on one place, this innovative online platform will eventually allow users to layer an increasing number of interdisciplinary data to address the complex issues that any city poses. The project strives to offer a framework that incorporates storytelling reliant on geospatial data and to normalize input across a range of data sets so that material can be cross-compared in novel ways, allowing users to make connections between seemingly unrelated data sources and ask questions that would not be apparent when only looking at one particular project.
Population Health Implementations
Health Information Exchange (HIE) and Disease Registries are technologies that support the Emory Healthcare Network's Population Management goals. The Emory HIE provides access to patient data across the network. This past year, 69 EHN practices were connected to the Emory HIE, bringing the total to 114. The Emory HIE receives over 11,000 hits per month.
HealtheRegistries is a disease and wellness registry tool that enables population management. It is a cloud-based technology that aggregates and standardizes data from multiple sources including clinical data from electronic medical records, pre-adjudicated claims from Emory Healthcare, and payer claims for shared savings attributed patients. The infrastructure is in place, and the teams are preparing to begin using the system later this fall in primary care clinics throughout the network.
Alma Implementation
The implementation of Alma, a next-generation library service system, enables the Libraries to fully utilize state-of–the-art technology to increase the flexibility of workflows and services. In the future Alma will also enhance access to collections found at other institutions. The cloud-based architecture of Alma provides more operational efficiencies combined with information-rich workflows that give libraries access to increased data regarding its collections, processes, and user activities.
Canvas Pilot and Transition
Emory University chose Canvas as its new learning management system (LMS) to replace Blackboard. Canvas became openly available for use in the summer of 2016. Blackboard will remain available along with Canvas through the summer of 2017 to allow a full academic year for transition. The decision to move to Canvas was based on the results of an extensive pilot and technical assessment, which received an 81% vote of support from faculty participants. In addition to providing a modern user experience for faculty and students, a move to Canvas also aligns with emerging learning management system standards and open technical architecture that will allow for more engaging and meaningful capabilities for teaching and learning experiences.
Emory FIRST
Emory FIRST (Faculty Information on Research Scholarship and Teaching) is a faculty profiling system being developed to centrally store a faculty member's publications, grant information, teaching activities, licensures, and professional activities. Faculty will be able to auto-generate CVs, compile tenure and promotion portfolios, deposit works into OpenEmory, and highlight the impact of their published works. Additionally, Emory FIRST will also make it easier for faculty to collaborate with OpenEmory, the University's open-access repository of scholarly works. During FY16, the WHSC Library curated more than 2,600 School of Medicine and Nell Hodgson Woodruff School of Nursing faculty profiles in Emory FIRST and reviewed almost 330,000 publications.
Cloud Framework Project
In January 2016, LITS launched a project to develop a framework for using Amazon Web Services to conduct research. The goal of the project is to make available to Emory's researchers the massive scale and agility of Amazon Web Services in a secure way. This project began by working with the research community to document more than 20 use cases for Amazon Web Services. These use cases were then categorized into three different access methods and two distinct technical architectures. Skeletons of these architectures were built in a proof-of-concept with AWS professional services during the month of March. After the successful proof-of-concept, the project started developing an automated approach to delivering these architectures. Over the summer, several research focus groups were identified to pilot the architectures. These pilots are ongoing and are expected to run until the end of the calendar year.
Samothrace and Virtual Rome Projects
ECDS used 3D modeling and computer graphics to recreate the physical environment and bodily actions and perceptions of pilgrims on the ancient Greek island of Samothrace. The work, supported by a grant from National Geographic, allowed researchers to examine how the nexus of terrain, buildings, and movement heightened the experience of initiation in the otherwise secret and complex archaeological record. The 3D virtual reality (VR) model will serve as a platform for exploring various ways of modeling in a static, texture rich environment, as well as moving to greater interactivity by using a gaming engine.
Virtual Rome is a digital humanities project that provides a 3D walkable reconstruction of the city of Rome ca. 1676, using the gaming platform Unity 3d. The project allows the visitor to enter the map, strolling the streets of the city as a virtual pedestrian: gazing at church facades, climbing the Capitoline Hill, crossing the Tiber River, and even entering the Pantheon. In order to build Virtual Rome, the team cross-referenced both ancient and modern maps then created a block-by-block immersive, correctly scaled, and intricately detailed version of Rome, as seen in the etchings of the 17th century artist Giovanni Falda.
Emergency Codes App
IT Architecture rolled out a new Emergency Codes App to Emory Healthcare to make available information such as how to call and respond to important codes such as weather, system or patient-related incidents. This smartphone app replaced the Unified Emergency Code Card that staff wore around their necks. Knowing what these codes mean and how to react quickly is critical to the safety of patients, visitors, staff and physicians. The app was made available via Emory's App Catalog, signifiying the first EHC use of the catalog and completing its enterprise-wide functionality.
<< Achieving Excellence | Risk Reduction >>