Library & Information Technology Services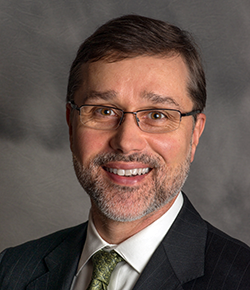 Richard Mendola, Ph.D. is the Vice President of Information Technology and CIO for Emory University. In this role since 2007, Dr. Mendola and his team are responsible for creating and sustaining a seamless, agile, innovative and efficient information technology environment that advances the educational, clinical and research activities and aspirations of Emory.
Thanks to terrific work across all levels of the LITS organization, we continued to help Emory move forward in a time of great change. In this year's report, you will see but a small sampling of the many contributions that LITS team members made to Emory's mission. From my vantage point, I want to draw your attention to several initiatives with broad implications, some of which completed in the past year after thousands of hours of effort, and some of which are still ramping up. 
One of the most significant achievements was the opening of the Library Services Center, completed and run in partnership with Georgia Tech. Not only did the Center open, but over 1.6 million volumes from both institutions were processed and placed in the facility, far exceeding the rate at which the team originally estimated this work could be done. As with any large, complex project, strong leadership and teamwork at all levels of the two organizations were the essential drivers for this project's success.
The opening of the center wasn't an end in itself, but one step in many future beginnings. The collaboration with GA Tech provides an opportunity for us to align our library collection strategies and benefit from each other's investments. It gives us the capacity we needed to continue to expand our physical collection, especially our renowned special collections. And finally, it allows the Emory Libraries to make decisions on space utilization that are aligned with the existing and future needs of our faculty, students and staff.
Another project that closed last year was the network core upgrade. The network core is the most foundational layer for all the IT-related work that occurs at Emory, and it supports over 100,000 connected devices. Despite some significant challenges along the way, the core team persevered and delivered a robust core design that is being complemented with updates to many of the remaining network components that support everything from over 220 physical remote locations all the way down to individual desktops, and of course, our connections to the Internet.  Some of this additional work is already complete, and nearly all of it will be finished in the coming year, providing Emory's academic and clinical functions with much higher levels of performance and reliability.
Improving our security and identity management posture has been a top priority in LITS for many years now, but in the past year, it may have felt more personal. New self-service options for identity and password management were rolled out and Duo 2-factor authentication was expanded across the entire enterprise. In the coming months, Duo will be required for external access to all of our critical systems, making it much more challenging for hackers to compromise the credentials of anyone in the Emory community.
Finally, I want to end with a discussion of our move to the cloud. Last year saw the completion of our Office 365 migration project, with Emory Healthcare joining the rest of the University on this robust communications and collaboration platform. Although "finishing" this project had some sense of closure, like many of the other projects mentioned here, it is really just a beginning. Office 365 is a broad and deep software ecosystem that will continue to grow in the coming years, and we certainly expect to take advantage of those expanding capabilities.
Last year also marked the beginning of our design work on creating a researcher-orientated Amazon Web Services (AWS) offering that combines the best of Amazon's scalability and flexibility with a secure network architecture that will facilitate research that is governed by various regulatory measures such as HIPAA, or that might have higher security requirements. Much work remains to be done on this front in the coming year, but if all goes well, we hope to announce the offering and move on to a review of what data center services make sense to migrate to AWS as well. 
In addition to cloud platforms and infrastructure, we also continue to adopt software-as-a-service offerings to move the institution forward. One of the more significant examples of this is our migration to Canvas as Emory's new learning management system. Cloud-based, with a modern user interface, Canvas was widely chosen by our pilot users as a preferred option over our existing system. With the pilots complete, all courses are now being migrated to Canvas over the coming year, and we expect results similar to what we saw in the pilot tests. 
I hope you share my enthusiasm for all that has been accomplished in the past year and all we have to look forward to in the coming year. It is only because of the many outstanding LITS staff, Emory colleagues and partners that we are able to accomplish what we do.
Rich Mendola
Enterprise Chief Information Officer and Sr. Vice Provost of Library Services and Digital Scholarship

<< LITS Annual Report Home  |  Achieving Excellence >>