OPUS: Overview
Before logging in, it is helpful to clear your browser cache.  For information on cache clearing, see our login issues page.
Bookmarks you set to pages in OPUS prior to June 2018 will no longer work.  You will need to reset your bookmarks.
If you have a general OPUS question, please email the ASK OPUS help group.
In June of 2018, the SIS team delivered the new tile based navigation in (Emory's PeopleSoft student information system) along with many other enhancements provided in the software.
Each User Interface will be quite different from the current OPUS.  Below is a preview of an Administrator homepage with high level tips to navigation in the new OPUS.  These same navigation tips are consistent on all home pages including the Student homepage.  Familiar pages used by staff to perform their daily transactions are relatively unchanged, but navigation to those pages will be through tiles or the navigator both of which work to replace the old menus.  Please familiarize yourself with these quick tips to assist you during the transition. 
Homepages – Tile groupings based on the type of user interaction and access to OPUS.  Users may have access to multiple Homepages depending upon roles at Emory.  Choose Homepages through the drop-down menu at the top of the page.
Tiles – Collections of high-use pages to streamline navigating to those pages.
Navigator – Displays the menu folders and pages structured like that in previous version.  This is used to navigate to pages that may not be found within Tiles.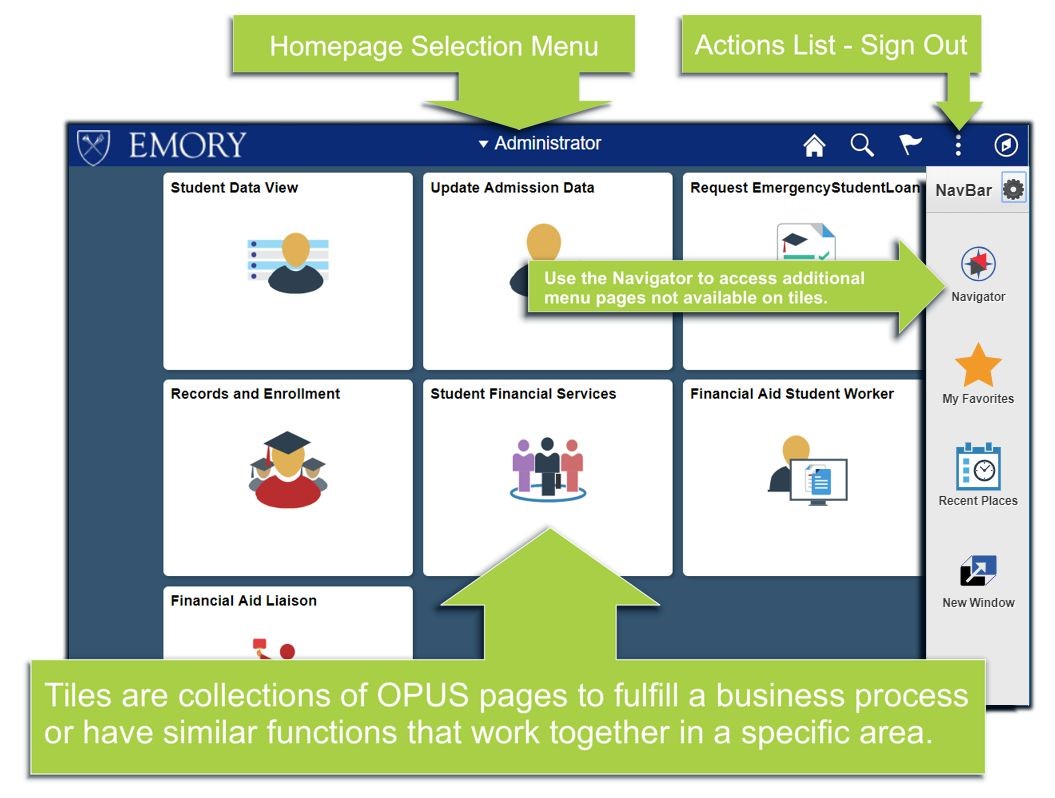 Users will continue to utilize Favorites and Recent Places.  The initial presentation of the Homepage and Tiles is intended to streamline the navigation to the majority of OPUS pages used in a specific business process and other day-to-day operations.
PeopleSoft SA's OPUS (Online Pathway to University Students) is Emory's online student information system. OPUS provides students with the ability to view the status of documents needed for application evaluation, view admission decisions, enroll for classes, view schedules and grades, order transcripts, pay your student account charges, view your current bills, view and accept financial aid and many more services.
Alumni/Former Students:
If you are a current student, you can order your transcript online through OPUS.
If you attended from 2000 – present, you can order your transcript online through OPUS by clicking on the Request Emory Transcript link in the student center.  If you do not remember your ID and/or password, or attended prior to 2005, contact OPUSHELP@listserv.cc.emory.edu to have your account activated or reset.
If you attended prior to 2000, you can order your transcript online through our Transcript Ordering Service.
Online ordering is the preferred method for placing a request for transcripts.
If you do not have access to order your transcript online, please contact the Registrar's Office at 404-727-6042 or registr@emory.edu.
Applicants
Applicants who have completed and submitted an application will be granted access to OPUS. Please check with your respective school for more information.
If you are having trouble with your Network ID or Password you will want to click on the following link to confirm and retrieve your OPUS login credentials, Obtain Network ID and Password or contact the IT Service Desk at 404-727-7777.
Students
All current students are granted access to OPUS.
Please click the ASK OPUS button on any screen within OPUS or email questions directly to OPUSHELP@LISTSERV.CC.EMORY.EDU. Please review our Frequently Asked Questions as you may find an answer to your question. If you are having trouble with your Network ID or Password, please contact the IT Service Desk at 404-727-7777.
Faculty and Staff
Faculty and Staff who wish to obtain access to student data in OPUS should complete the
Request for Access Form and submit it to the Office of the Registrar at 100 B. Jones Center. If you are having trouble with your Network ID or Password, please contact the IT Service Desk at 404-727-7777.
Guests
Applicants and students have the ability to sponsor Guests in OPUS. The applicant or student determines what access a Guest has. The applicant or student is responsible for assisting his/her Guests with login ids, passwords and questions regarding OPUS data. Please contact your applicant or student sponsor if you are experiencing difficulties.
LITS Maintenance
Occasionally LITS performs system maintenance resulting in downtime for the PeopleSoft applications. Typically this maintenance is performed within negotiated windows, arranged between Administrative Systems customers and LITS.