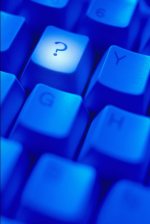 We all forget
We all forget things from time to time: where we left our keys, what time is our appointment, or what is our password.   To accommodate this situation, Emory has an optional set of security questions that you can set up for your account to let you reset a forgotten password without calling the service desk.
Set up your questions and answers
The Emory password management site can be found in the "Quick Links" section on the Emory IT website (http://it.emory.edu/), labeled as "Password reset tool."  Once you are logged in with your NetID, you can select "Passwords" and then "Authentication Questions" from the top of the page. 
The available questions were carefully selected to have answers that wouldn't be known by friends or co-workers.  Not all of the options are memorable to everyone, so a number of options are given.  Find at least six questions with answers you know well, set up your answers and click "save" at the bottom of the page.
When you forget…
When you forget your password, you can visit the Emory password page again, enter your username and select "Forgot Password."  You will be presented with three of the questions you set up.  After answering them correctly, you will be able to change your NetID password. After resetting your password, remember to update your password in locations where it might be saved, like email on a smartphone.