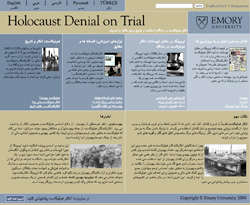 November 10, 2009
The partnership between Emory's University Technology Services (UTS) and Emory's libraries exemplifies digital scholarship . A website at the heart of this effort chronicles Holocaust denier David Irving's efforts to sue Emory Professor Deborah Lipstadt for libel. The website, Holocaust Denial on Trial (HDOT), lives on the web at www.hdot.org.
At first glance, one might wonder at the significance of this online court record. But even a cursory review of the material available on the website reveals that HDOT is the most complete court-admitted evidence record of the Holocaust that is available on the Internet. Furthermore, it is a rich resource for researching individual aspects of the Holocaust, especially in the face of deniers like Irving who dispute the historical record.
HDOT is digital scholarship; a reference site that is an authoritative record of court admitted proceedings that are available globally to researchers and students alike. It positions itself alongside the United States Holocaust Memorial Museum as the site that looks to confront deniers and denial on the Internet.
The site's caretaker within UTS is Dan Leshem, a recent Ph.D. graduate from Emory's Department of Comparative Literature. Leshem has worked with his mentor, Professor Lipstadt, throughout his graduate career to both build the website as well as to document the history of Holocaust denial. In HDOT, he has found a location to do both, simultaneously.
Leshem says that regardless of what social networking tool anyone is likely to visit, you'll find the work of deniers already embedded. Web 2.0, he observes is a particularly powerful infrastructure for them to exploit, with denier communities popping up on Facebook and in evaluating videos on YouTube.
It is against this backdrop that Leshem recently coordinated the site's translation into Arabic, Farsi, Russian, and Turkish

Work concurrently went on by the Library's Rebecca Sutton to re-program the site to accommodate the new languages. What resulted is a resource that now draws traffic from Iran, Turkey, and Russia as amongst the sites top search origins where before they were barely represented.
Even more impressive is that HDOT, as a scholarly resource, outranks denier pages, frequently exposing falsehoods that deniers are raising in their subsequent Google links.
This is the face of digital scholarship at Emory; ethically engaged, internationally relevant, working for positive transformation in the world though courageous leadership.
- Alan Cattier, Director, Academic Technology Services