Confluence Migration
Atlassian has changed the way they license and support Confluence (aka wiki.emory.edu). We can no longer get a license to host Confluence ourselves and must move to the Atlassian hosted solution. This has brought along other changes that will impact the way we use and manage Confluence.
Note: The migration is complete - you may access your content here.
We will track post-migration behavior changes and FAQs here, so revisit for common issues/questions.
Login Changes - please take note.
One major change to user behavior will be around logging in.  On initial access to the cloud instance, you will be prompted for Emory Login if you don't have a current Emory Login session active.  Use your netID and password as usual.  At that point, however, you will be routed to an Atlassian login window.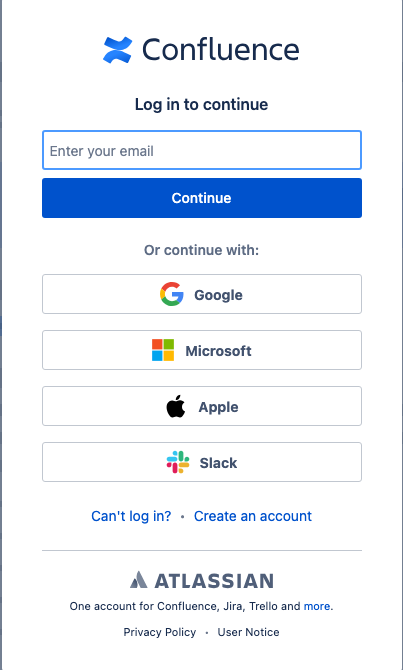 If you see this window, please enter your primary Emory email in the "Enter your email" box.  If you are not sure which format your primary Emory email is, you can verify by visiting https://directory.service.emory.edu or opening up your Outlook contact in your email client.  Once you enter your email and click continue, you should be granted access to the wiki with no further action needed.  If you are prompted for your password, you are not using your primary Emory email format or you do not currently have access to the wiki - if you have questions about this behavior reach out to OIT: Web Management via Service Now.
Do NOT use any of the other social auth login options (unfortunately they can't be hidden) since they will not correctly link you up to your Emory user account.
What other changes will I experience after the migration?
Bookmarks and links:
Most bookmarks and external links will be redirected to the cloud pages. However, due to some formatting changes in the way cloud instances encode URLs, some bookmarks and external links may need to be udpated.  Internal links (from one page to another or from a navigation tree in the application) will be unaffected.
User accounts:
Some historical user accounts for users who are no longer at Emory will not be migrated, so you may see pages as modified by "Former User"
Additionally, some users who may have existed in different historical versions of the wiki over their tenure at Emory may lose some page ownership records as their multiple user records are merged during migration.
Users with both Emory netID and EHC accounts will no longer have access with both accounts (since they both use the same primary email address)
User names:
Since the Atlassian cloud uses primary email address as the user name for accounts, it is recommended that you do not change your primary email address.  Doing so will result in a loss of access to the application as well as a loss of activity history within the account.  (The content will not go away, but it will be owned by a different user so it will not show up in your edit or access history.)
Personal Spaces:
Due to time constraints with the migration, we will NOT be migrating user's personal spaces from the wiki.  If this poses a major inconvenience, reach out to OIT: Web Management via ServiceNow and we can help you migrate your content once the primary migration effort is complete.
Look and Feel:
There are a few differences to the internal look and feel of most spaces/pages, but nothing that savvy users can't manage.  The landing page will look quite different however as it is more focused on your own work/activity within the wiki.  The navigation bar across the top (used to access spaces and create content) is largely unchanged.