February 18, 2011
Employees with the UTS Messaging Team and Call Center worked with operating room (OR) nursing personnel at EUH and EUHM to create a process improvement for paging frozen sections. A frozen section is where the surgeon takes a biopsy of a patient and sends it to the pathologist for an immediate diagnosis. Depending on what the pathologist finds on the microscopic slides will help determine what course of action the surgeon takes. For example, if the tissue is cancer, the surgeon will probably do a different surgery than if the tissue is benign. The reason it is called a "frozen section" is because the tissue is quickly frozen so it can be sliced extremely thinly in order to put on the slides and view under the microscope.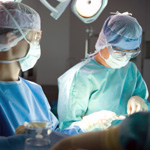 By improving the process, unnecessary delays can be eliminated for patients is under anesthesia. The OR nurses used to call the Call Center and give three to five pager numbers for the pathology personnel who needed to be notified. The Messaging Team consolidated the pager numbers into groups that page all of the appropriate people at one time.
This saves the OR nurses time in calling in the frozen section requests and also allows the operators to put the page out only once instead of having to process 3-5 individual pages. And of course, the most important benefit of all is to the patient, who spends less time under anesthesia and in the OR.
---
For additional information on this or any other Emory OIT service, please contact the
University Service Desk at 404-727-7777, Monday - Friday 7 am - 6 pm.
---