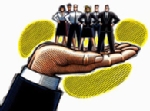 August 26, 2011
Human Resources, Payroll and UTS upgraded its PeopleSoft system for enhanced functionality. As a result, the system was temporarily shut down on July 28 and was not available until August 1, 2011. The new system offers a new look and feel as well as some improved features. This upgrade is for the HR system only and did not affect other PeopleSoft systems such as OPUS and Compass.

What is different as a result of the upgrade?
New look and feel - there is a slight difference in the look and feel of self service; for example, the navigation menu is now displayed horizontally across the top of the web page rather than appearing on the left hand side
New look for paychecks - paychecks are now available as a one-page, printable pdf making it easier for you to provide paperwork when applying for mortgages, loans, etc. The new version also provides accumulative YTD (Year to Date) data, including leave balances for biweekly paid employees. Paychecks created prior to the update will still be presented in the old format
New Feature: My Profile - a new self service feature, My Profile, allows you to view and update your education (degrees), licenses and certifications, memberships, and honors and awards
Internet Browser Requirements - the following browsers are certified to work with PeopleSoft Version 9.1: Firefox 3.6, Internet Explorer 7, Internet Explorer 8, Safari 3, Safari 4, and Safari 5. As of August 1, if you are not using one of these browsers to access the Internet, you will not be able to access self service through PeopleSoft.
---
For additional information on this or any other Emory OIT service, please contact the
University Service Desk at 404-727-7777, Monday - Friday 7 am - 6 pm.
---