Information Technology Architecture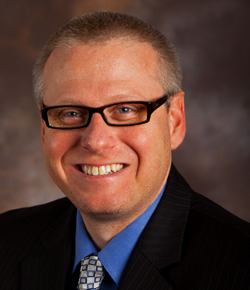 A respected leader in IT architecture, Steve Wheat became Emory's Chief Information Technology Architect in July of 2008. His strategic leadership and tactical execution of organization-wide initiatives improve customer satisfaction and bottom-line financial performance. He has extensive experience in leading the design, implementation, and integration of web-based applications and services.
In FY 2013 the IT Architecture group assisted many other units with integration development, mobile application development, information security, and digital publishing projects. We also developed and documented new patterns and infrastructure for mobile applications at Emory. The following is a summary of a selection of our projects.
Emory Commons and eBirt
We assisted R-WIT on two major projects, Emory Commons and eBirt 2.0, with integration analysis, design, and development. In order to expose data to Emory Commons, ESB services needed to be designed and implemented or in some cases extended to include all of the data that researchers and research administrators will need to see in the Emory Commons portal application. IT architecture helped perform analysis and design and worked with R-WIT and UTS to implement and optimize those services and the Emory Commons application that invokes them. In the case of the eBirt 2.0 project the IT architecture team worked with R-WIT to develop an ESB service that exposes the data in Symplectic Elements and the integration that invokes this service to initially provision Elements with Emory user data and keep it up to date as user data changes.
WebEase
The IT Architecture Group also worked with the Rollins School of Public Health to complete development on the WebEase Mobile and Web Applications to help people manage epilepsy and meet their wellness goals. The applications are in the testing stage and are planned for release in early 2014. In order to test mobile application effectively, the IT Architecture Group developed a mechanism for distributing mobile apps internally to a large audience of Emory people and focused groups of application testers. In addition, we worked with the UTS integration team to develop and implement new authentication and security measures required to support mobile application and web service security.
Security
We also worked with the Information Security Group to develop an integration between the new HIPAA Audit Logging Service and the Security Information and Event Management (SIEM) System and helped evaluate source code analysis tools.
Carlos Museum
Finally, we worked with Emory's Carlos Museum and external consultants to produce a digital version of the Carlos Museum Guidebook that will be available later this year for purchase on the Apple iBookstore and potentially other marketplaces.
Looking Ahead
In FY14 the OIT Architecture Group will be working on documenting mobile application development architectures, a new release of the OpenEAI ESB Console, Emory Commons integration development, research picture archiving and communication system (PACS) integrations, and more. Visit the OIT Architecture Wiki for up-to-date status on current and planned initiatives.
Steve Wheat
Chief Information Technology Architect, OIT Enterprise Architecture
<< Emory Healthcare Information Services | IT Finance & Administration >>