July 31, 2012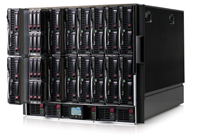 When Blackboard went live this month, the Infrastructure team reached a milestone of over 500 Virtual Machines (VMs) within our infrastructure (552, to be exact). This represents a huge cost savings as far as hardware and power. It is greener because we have 20 servers instead 552.
A Virtual Machine shares a physical server with another VM. It looks like its own stand-alone server, but it shares. In the old days, servers ran to about 10% of capacity. Now with the VMS, we have much better use of our machines and dramatically lower cost.
The effort started four years ago and has really taken off since last year because we went to larger physical servers with more memory so that we could load the bigger applications, such as PeopleSoft HR, PeopleSoft Student, Blackboard, and in two months Kronos. Therefore the footprint in the Datacenter continues to consolidate. With each refresh, we check to see if we can VM this applications.
We are seeing campus-hosted VMs. Customers on campus are now using this service and if they need a new server, we have them purchasing VMs (which are HP C-Class blades).
The big thing is that we have total buy-in across the division because everything is going virtual these days. We are purchasing much fewer physical machines than in the past. Mike Lewis (Systems Engineering, Infrastructure) the main architect of the project, has done commendable work.
- Steve Siegelman, Manager, Infrastructure
---
For additional information on this or any other Emory OIT service, please contact the
University Service Desk at 404-727-7777, Monday - Friday 7 am - 6 pm.
---