January 10, 2012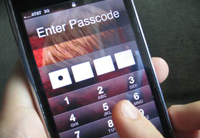 Emory has approved a new policy to improve the security of smart devices (smartphones, tablets, etc.) that access Emory e-mail, or store sensitive Emory data. In the coming months, devices that are configured to check Emory Exchange e-mail will automatically be configured to meet the requirements of the policy. You may read the policy at: http://policies.emory.edu/5.14.
The most noticeable item in the new policy is that any smart device being used to access Emory Exchange will be forced to enable a four-digit PIN/password, as well as enabling a secure device wipe in the event that the PIN/password is incorrectly entered 10 times. This policy will hold true for all smart devices used to access Emory Exchange, regardless of whether or not the device is owned by Emory.
Currently, several departments in OIT are testing the policy. The policy will eventually be rolled out to rest of campus after additional testing has been completed. Look for additional information and communications in the coming weeks.
- Derek Spransy, Information Security Specialist, OIT Information Security
---
For additional information on this or any other Emory OIT service, please contact the
University Service Desk at 404-727-7777, Monday - Friday 7 am - 6 pm.
---