June 13, 2012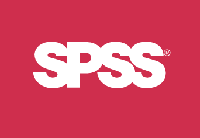 SPSS, the IBM predictive analytics statistical software, no longer has a grace period, according to IBM. This means that the code will expire without an extension at midnight, June 30, 2012.
To help those who use SPSS, IT F&A renewed the license agreement early to acquire the new license codes before they expire. These codes will be available on Software Express by Monday, June 18. The new codes will not expire until June 30, 2013.
NOTE: In order for SPSS to work, you need to run the License Activator (found in the SPSS application folder) and input the new codes. You could also reinstall the software, but will still be required to enter the new codes when prompted.

The new codes are displayed on Software Express after clicking "I accept" on the license page, but before the download window appears.
Although this change affects all versions, Software Express will no longer offer version 18 at the end of June, as only versions 19 and 20 are currently supported.
For more information, contact Carole Hirthler.
---
For additional information on this or any other Emory OIT service, please contact the
University Service Desk at 404-727-7777, Monday - Friday 7 am - 6 pm.
---