February 17, 2012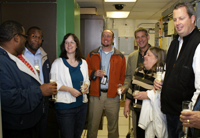 On December 7, members of OIT toasted the old Nortel telephony switch in a private celebration in the Cox Hall switch room, as the switch was finally retired following 26 years of service. Emory is now using a more modern Avaya switching system, which consists of a single platform. The project completion represented thousands of hours of work and involved staff from all over UTS.
To give one an idea of how Emory has grown, when the decision was made to move away from Centrex (built in the 1970's) and bid on an individual switch (in 1984 when the Nortel switch was selected), the bid went out at 4,500 stations, the contract was signed for 5,500 stations, the switch went into service with 6,500 stations, the five-year growth was planned for 7,000 stations, and at five years the University had 10,000 stations. When Avaya won the new bid, Emory had about 30,000 lines.
When the original switch was put into place, the Emory University chaplain (Donald G. Shockley) said a little prayer and blessed the switch before it was turned on in 1985. In the twenty-six years of service, the Nortel switch, which still utilized its original switchboard, survived a fire, a flood, a mudslide, and several power outages. The switch's generator never failed.
Perry Eidson (UTS Infrastructure), who made a career out of managing the switch, and Joseph Massey (UTS Architecture), who was the driving force for bringing Avaya to Emory, did the honors to shut down the Nortel switch for the last time. In a scene reminiscent of disabling the HAL-9000 computer in the movie 2001: A Space Odyssey, the ancient machine was shut down by pulling several redundant memory/processor cards simultaneously.
"That's it, it's dead!" said Perry.
Over the next few weeks, over 28-tons of hardware was removed from Cox Hall switch room. It was a delicate operation as Emory's outlying clinics and several other cross-connects are still serviced in this room. Nonetheless, the operation was completed without any outages.
---
For additional information on this or any other Emory OIT service, please contact the
University Service Desk at 404-727-7777, Monday - Friday 7 am - 6 pm.
---