April 27, 2012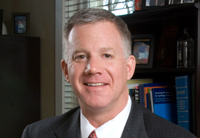 On March 19, Mike Mandl, Emory's Executive Vice President for Finance and Administration held a town hall-style meeting with OIT in the 4th Floor auditorium of the North Decatur Building. The division was invited to hear Mandl's financial report card for the University and to engage in a spirited question and answer period afterwards.
Mandl spoke about strategic risks that Emory faces in the coming years and wanted to shift people away from the notion of centralization versus decentralization, but rather focus on need and how things get done, regardless of where people work within the enterprise. He believes that measuring effectiveness and holding people accountable allows us to "meet the business needs in the most cost effective way possible." Mandl added that success is also measured in terms of time periods and that we must be "magnets for change."
According to Mandl, merely using pricing power as a way to grow revenue is no longer as viable as it once was and that other initiatives would be needed in the coming years. These included shoring up clinical volume in healthcare, expanding the educational base beyond traditional degree programs, following an interdependence and function support model, and renewing capital and program subsidization funds via philanthropy.
Despite that funding models for Emory are changing, Mandl believes that Emory is making a concerted effort to respond to these changes and that we are responding well to date, but there is more to do.
Often in IT, expensive projects are needed whether non-IT groups believe they are necessary or not. "If someone says that they don't want IT security, that's too bad because they must have it anyway. The hard work is getting people to commit to things they have to pay for if they don't see the value themselves, even if there is institutional value," said Mandl.
"The challenges we face present new opportunities that support our mission," said Mandl. "We deliver a very important 'product.' Each of us needs to respond and participate with a sense of optimism for change rather than resistance to it. IT as an organization has a leadership team that sets an example for managing the human resources of enterprise and delivering."
Following his speech, Mike Mandl responded to a series of questions, both from the audience and submitted prior to the Town Hall. Here are some of the highlights:
Question: "How are we doing versus our peers?"
Mandl: "Quite well. Some have different sources of revenue, but they are all confronting it. We have a diverse revenue stream and a strong balance sheet. We must take advantage of it or we will lose that positioning."
Question: "What are your top BPI opportunities and initiatives?"
Mandl: "IT is a partner in this. The role IT can play is adding discipline in areas like documentation, redesign of processes with an awareness of IT. Research Administration across the enterprise is the top functional priority."
Question: "What are the metrics you rely on?"
Mandl: "I go from qualitative discussions and ask quantitative questions. We talk about best practices with our peers and I generally feel like we are doing well in comparison."
Question: "Do you have to pay for parking?"
Mandl: "Yes! Because I have a spot, I pay the $1600 full reserved fee. I fought against exceptions for executive staff. Even the president pays. No exceptions on this for the university staff. As a leadership team, we take that kind of thing very seriously."
Question: "Does F&A have plans for alleviating congestion. I worry Clifton congestion is going to get worse with the new mixed-use construction."
Mandl: "This is difficult. We try to promote alternative modes of transportation. There is a referendum this summer for a Marta stop at Sage Hill. Full funding of the Clifton bridge is in this transportation bill as well. There are 400 units in the new construction and they have 600 people on a waiting list. Almost all them are Emory and CDC employees, so we feel the traffic will be a neutral change as people who used to drive could soon walk."
Question: "The College is on an unsustainable course, how do we counter this?"
Mandl: "Arts and sciences often struggle throughout the sector. Rate of growth of tuition and financial aid affects this. The wide diversity of offerings and the cost of this diversity of coursework also affect this, but is also one of the sources of value to the very diverse interests of our students. Earl Lewis' initiative on the future of liberal arts will tell us a lot. Financial aid has grown dramatically since 2008. We will have a sustainable model to ensure value does not get diminished."
---
For additional information on this or any other Emory OIT service, please contact the
University Service Desk at 404-727-7777, Monday - Friday 7 am - 6 pm.
---